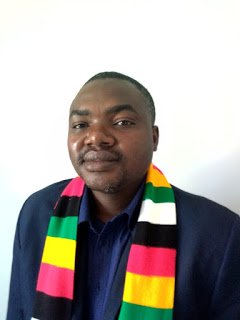 Munyaradzi Zizhou
Upenyu Chaota
Munyaradzi Zizhou has come out victorious in the recently
held Zanu PF Chivi South primary elections which will see him standing in for
his party in the forthcoming parliamentary by-elections.
Chivi South had become vacant after the former legislator
Killer Zivhu was expelled from Zanu PF and recalled from parliament over gross
misconduct in which he called for dialogue between President Mnangagwa and the
opposition leader Nelson Chamisa.
Zizhou polled 1 857 votes ahead of eight other contestants
with Enock Shindi coming a distant second having polled 971 votes.
Mutsamba Samson came third having polled 923 votes, Naledi
Maunganidze 723 votes, Abson Madusise 202 votes, Mafios Vutete 170 votes, Denis
Masomere 165 votes, Rikios Hlambelo 80 votes and Peter Matuke 44 votes.
Zanu PF Masvingo provincial political commissar Jevas
Masosota said that the y-elections went smoothly and Zizhou will be
representing the party in the by-elections.
"We have done our primary elections and Munyaradzi Zizhou
came out victorious. The elections went smoothly and people voted for their
favorite candidate.
"Now we wait for the by-elections and we will retain the
seat without any challenge because Chivi South is Zanu PF territory," said
Masosota.
Zizhou told TellZim News that he was humbled to have been
chosen to represent the party in the Chivi South parliamentary by-elections and
vowed to deliver the seat as a gift to President Mnangagwa.
"Now that the primary elections are behind us, we have to
focus on campaigning and win the seat for Zanu PF. We have to work so that we
give this seat as a gift to our President Emmerson Mnangagwa.
"Chivi South is Zanu PF territory and there is no doubt that
Zanu PF will win resoundingly. The province is united under the able leadership
of chairman Ezra Chadzamira. He has managed to unite the people and we are
working as a team to make sure that the party wins this coming by-election,"
said Zizhou.
He said all other contestants should now put the primary
elections behind them and focus on the task ahead.
"We were nine in the primary elections and there could only
be one winner. Now is the time to shake off the primary fever and support the
winning candidate.
"Development is not done by one person but a collective.
Vision 2030 needs everyone to put their hands on the deck," said Zizhou