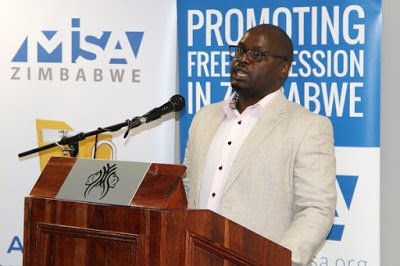 The
Media Institute of Southern Africa (Misa) Zimbabwe has claimed government's
commitment to the media reform agenda was questionable, saying bills being
advanced to replace the Access to Information and Protection of Privacy Act
(Aippa) were equally draconian.
Addressing
media practitioners at the Civic Centre on Saturday in belated commemorations
of the 2019 World Press Freedom Day, Misa Zimbabwe director Thabani Moyo said
if the three bills are passed in their current form, it would be more or less
of the same.
"The
three bills that are meant to replace Aippa would not be the kind of ideal
legislation that you want to enjoy your freedom as the media. They make small
compromises and sneak in new restrictions that are as bad as those contained in
Aippa," said Moyo.
The
three bills government has advanced to replace Aippa are Data Protection Bill,
Freedom of Information Bill and Zimbabwe Media Commission Bill.
Moyo
said the Zimbabwe Media Commission Bill, for instance, would concentrate all
media regulation power in the Zimbabwe Media Commission when the ideal thrust
is a move towards self-regulation.
He
also said provisions in the Freedom of Information Bill to the effect that data
requested by the media could only be released in its original form was an
indirect attack on access to information.
"We
know that some data is stored in safe formats meaning that if it is released in
its storage format, you would not make any sense out of it. That provision
actually means if the data is encrypted, it will be given to you exactly in
that format and you will not be able to read it," said Moyo.
He
also attacked the Broadcasting Services Act amendment bill, saying it would
stunt the development of the broadcasting industry and stifle the community
radios initiative if it gets passed in its current form.
"The
bill restricts foreign ownership in broadcasters to not more than 25 percent.
Now, who will come to invest in that sector when you are not allowed to have a
controlling stake? The broadcasting sector is a capital intensive industry and
many locals cannot make it alone.
"The
bill also bans broadcasting stations from receiving donated equipment and that
alone kills the community radios initiative because our communities are too poor
to afford their own broadcasting equipment," said Moyo.
He
urged journalists to participate in public consultations on the bills and make
contributions on what they think must be changed.
Great
Zimbabwe University (GZU) Media lecturer, Last Alfandika said it was surprising
that government was still afraid of community radios and was moving against
international standards.
"Real
community radio stations are yet to be licenced although government pretends
that by licencing regional commercial stations, it has licenced community
radios. Our understanding is that community radio stations must not be driven
by the commercial imperative and must be apolitical but if you look at what has
been presented as community radios, they are commercial stations owned by people
or organisations with close links to the ruling party," said Alfandika.