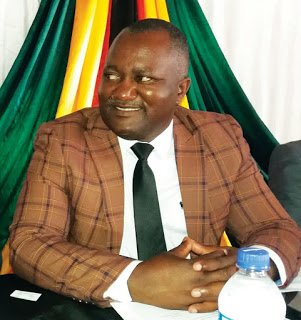 Minister of State for Masvingo Provincial Affairs, Ezra Chadzamira
Beatific Gumbwanda


CHIREDZI – Minister of State for Masvingo Provincial Affairs, Ezra Chadzamira last week challenged all four Zanu PF Chiredzi legislators to push for the amendment of the Sugar Control Production Control Act of 1964 which many farmers believe is giving too much power to processors and millers.
Addressing hundreds of sugarcane farmers drawn from various associations, Chadzamira said Chiredzi's members of parliament should take advantage of Zanu PF's third parliamentary majority to amend the 1964 Sugar Control Act which is robbing sugarcane farmers.
"There are some issues which our legislators can take care of through raising a motion in parliament. Zanu PF commands two thirds majority in parliament and we can even change any law that might be troubling our fellow countrymen.
"Therefore, our legislators should take advantage of that to amend or change the 1964 Sugar Control Act in favour of farmers. Nothing is difficult on that because we are the ones in power," said Chadzamira.
The Competition and Tariff Commission in 2005 submitted an investigative report to then president Robert Mugabe complaining that the sugar industry playing field was not level and was only benefitting a handful of firms.
The Sugar Control Act, which governs the sugar production in Zimbabwe, was said to be benefitting the Zimbabwe Sugar Refinery Corporation Ltd, Hippo Valley Estates Ltd, Zimbabwe Sugar Sales (Pvt) Ltd and Triangle Ltd.
These companies are said to be benefitting directly or indirectly at all levels of production, from cane growing and milling to sugar refinement and distribution.
The Sugar Control Act also determines how farmers are paid by the Miller in form of Division of Proceeds (DoP).