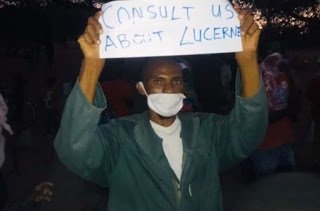 Blessed Chauke
Shangani
people from Chilonga, through their lawyer Tendai Biti, have filed an urgent
chamber application with the High Court seeking to reverse the 120 year old law
on land ownership.
MDC
Alliance vice president Biti announced the move on his twitter handle @Biti Law
Chambers a few weeks ago saying they had filed an application on behalf of the
Hlengwe Shangani people seeking to reverse a colonial legal order that says
communal land is state owned and individuals cannot claim entitlement to it.
"We
are proud to report that on the behalf of the Hlengwe Shangani people of
Zimbabwe Lowveld, we have filed a land mark application seeking to reverse 120
years of a colonial legal order which states that an African cannot own land in
communal lands," reads the tweet.
Alex
Magaisa, a prominent lawyer and political analyst also commented on the issue
through his twitter handle saying the Communal Land Act was in violation of the
constitution in several ways.
"The
Big Saturday Read (BSR) argued that the Communal Land Act violates the
constitutions in several ways and should be repealed or challenged. Pleased to
see leading human rights litigation firm @ Biti Law Chambers challenging this
law which is fundamentally based on colonial constructs," reads the tweet.
Communal
Land Act says land shall be vested in the President, who shall permit it to be
occupied and used in accordance with the Act.
One
of the applicants, Livison Chikutu, from Chilonga told TellZim News that the
government has been dodging them for a long time since it failed to address the
Chilonga evictions.
Chikutu
said it was very difficult for them to fathom the idea of having to be forced
to vacate their ancestral lands saying they had been evicted from other areas
and cannot remain nomads.
"We
have filed the land mark application challenging the government because we
realised that the government is being unfair to us since no one from the
government is showing interest to address the Chilonga evictions.
"The
problem is that the government is not following our history because we have
been shifted from different areas such as Gonarezhou, Triangle, Hippo Valley
and Malilangwe and finally settled here a long time ago.
"Our
fathers were not compensated when they were moved to this place just like what
they want to do with us,'' said Chikutu.
However,
in a WhatsApp group that consist of people from Chilonga, people were
expressing mixed feelings over the whole issue with some voicing their anger
against the lucerne project which is posing an eviction threat to them while
others were saying the project was beneficial.
One
participant said if the project was meant to benefit them, they would have been
consulted and not a selected few to make decisions for them.
"From
what we know, if projects are coming in the community, people in that community
are consulted and agree but now we are being forced to agree to what they want.

"If
they are listening leaders who care about the people from Chilonga, why did
they ignore the petition that was filed by the community? They just went on
with the project knowing very well that the people from Chilonga were against
it," said the participant.
Others
said that the problem was that the selected representatives were sell-outs.
Chilonga
people are being represented by Minister of State for Masvingo Provincial Affairs
and Devolution Ezra Chadzamira, Chiredzi South legislator Kalisto Gwanetsa and
Zanu PF Masvingo provincial political commissar Jevas Masosota.
"In
all the meetings that are being held about this project, we are represented by
the very people who like the project to continue and none of the critics is
allowed into the meetings. Those who represent us, the likes of Chadzamira,
Masiya, Gwanetsa and Masosota are all in support of land invasion and community
eviction.
"Why
not forcing us to do sugar cane projects? At least that's better for us as we
have failed to get an earnest share of the sugar cane farms as Tsonga people
for they are within our territory," said another participant.
A
few weeks ago, Chadzamira held a meeting in Chiredzi to address the issue but
chiefs and only selected individuals attended the meeting and the rest were
turned away.
Yesterday,
a high powered government delegation led by local government minster July Moyo
and minister of agriculture Dr Anxious Masuku had a meeting with the Chilonga
local leadership to try and get community buy in.
Moyo
promised that no one would be evicted from their lands but a few individuals
whose homes fall in the way of the irrigation scheme would be moved with the
families getting compensation.