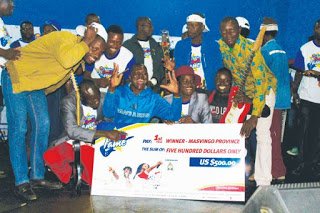 Magama Express band

Bothwell Chabarika
New Gutu-based sungura band, Magama Express, on Saturday gave a polished act which saw them winning first position in the Chibuku Road to Fame provincials held at Farai Beerhall in Masvingo.
The festivals are hosted annually by the National Arts Council of Zimbabwe (NACZ) in partnership with Delta Beverages as the sponsor.
Magama Express is made up of five members who did not disappoint during their appearance in front of the big audience, earning themselves a US$500 cash prize.
An Afro Jazz group from Mashava, Destiny, took second position after putting up a remarkable performance of its own and walked away with US$300.
Another sungura outfit, Orchestra Kururama took third position and walked away with US$200.
NACZ provincial arts manager, Helen Mudefi told TellZim News that she was confident that the winning group will make it in the national competitions that will be held in Harare come September.
She said she was happy with the many bands and members of the public who showed interest in the musical competitions.
"I am glad we managed to secure a good number of participants for this competition and I am also confident that the winners are going to make it at the nationals. The groups that participated came from Mashava, Bikita, Gutu and Masvingo districts.
"I am pleased by the level of talent that was shown here and I am confident that local groups have a bright future in the industry. In the past, we have had such groups as Zano Rangu Sounds, Chuka Trinity, Woodpeckers and Tears of Africa making us proud and we hope the trend will continue" said Mudefi.
Last year's winners, Black Omolo attended the event as guests, and they gave a scintillating performance in between the intervals.