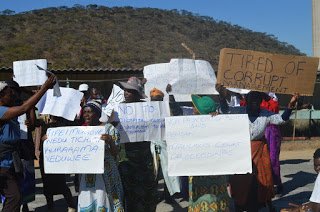 Five days after President Emmerson Mnangagwa's visit to the King Mine section of the defunct Mashava Mine, former employees of the company staged a demonstration on Wednesday to protest against many issues including forced removals, outstanding wages and corruption.
Holding placards demanding the resignation of the mine's top management which is headed by Stephen Nyagura, demonstrators chanted songs and vowed to press on until their demands were met.
They accused the management of deceitfully covering their shortcomings by repairing the road as well as painting the mine bus and some few structures in order to give a false impression of life to the President.
Mine workers committee member and representative, Edmore Munyani told TellZim News the ex-workers had waited for nine years without being paid their outstanding wages and severance packages.
"All we want are our packages and our unpaid salaries which the mine owes us. They no longer bother talking to us but we saw how they painted a few things and repaired the main road in preparation of the President's visit," said Munyani.
He said the former employees were being evicted from the very houses in which the courts ruled in January that they must stay, and which the company had given them as surety for the unpaid wages and packages.
"We thought the President would address the eviction issue because it is a public secret that here at Mashava, we are being evicted," said Munyani.
Company security would not allow TellZim News to get into the premises for an interview with Nyagura whom they said was busy in a meeting.
Other demonstrators who spoke to TellZim News said they were being evicted to pave way for chrome mining by some individuals with powerful political connections.top news