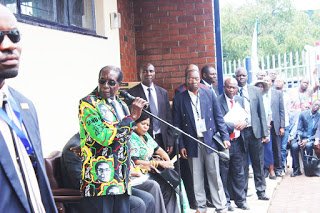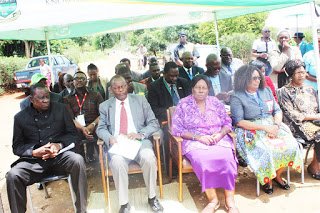 TellZim Reporter
MASVINGO – President Robert Mugabe angered the late Vice President Simon Muzenda's family and the entire Masvingo community last week after he failed to turn-up for the official opening of the KwaVaMuzenda heritage site in Mucheke despite the fact that the late VP's widow, Maud had waited for Mugabe for three days.
It was, however, Communication Technology minister, Supa Mandiwanzira who carried the day on Saturday when Mugabe finally made it to Mucheke where he officially opened a tiny information centre at Chikato Post Office before making a dramatic U-turn without proceeding to the heritage site.
The information centre is only a stone-throw away from the late VP Muzenda's old round huts that have now been converted into a museum.
Family members including the late VP's widow, some ministers, Great Zimbabwe University (GZU) Vice Chancellor Prof Rungano Zvobgo and the community had eagerly waited three days for Mugabe to officially open the museum.
The people in Masvingo said it was sad to realize that Mugabe snubbed 'the Soul of the Nation' who immensely contributed in the liberation struggle.
Muzenda family spokesperson and Member of Parliament (MP) for Gutu West constituency, Tongai Muzenda said the family was shocked by Mugabe's no-show.
"It came as a shock to the family. We waited for three days for the President to come only to see (Culture and Heritage) Minister (Abednico) Ncube coming alone and, to make matters worse, there was no explanation as to why the President did not come.
"My mother was equally shocked because the information that we had indicated that the President was going to officially open that house -turning it into a national heritage site," said a bitter Muzenda.
Muzenda, who seemed to be at loss for words, said he was going to approach Zanu PF Masvingo provincial leadership for explanation.
"Ma1 chaiwo my brother, the President was so near and yet he was far away. I will take this up because as I always say, factional politics has no room when we talk about my father's contribution to the development of this country," added Muzenda.
On Thursday last week, the Muzenda family and some ministers that include Josaya Hungwe spent the better part of the day waiting – in vain – for Mugabe to visit house number R36 in Zimuto street in Mucheke where the late VP used to stay before and in the early days of the liberation struggle.
The waiting continued on Friday through to Saturday when the drama ended with Mugabe opting to make a U-turn at Chikato Post office.
Analysts said Mugabe showed his true colours of not respecting people from Masvingo.
Respected historian, Dr Takavafira Zhou said Mugabe hates Kangas with passion and he does not respect anyone from Masvingo. Zhou said even the selection of ministers from Masvingo speaks volumes on how Mugabe rates the people from the ancient city.
"Mugabe opted to go to Supa Mandiwanzira's project because they are relatives – that's how selfish Mugabe is … furthermore, that move was a blow to Mnangagwa and all the heroes from Masvingo. You cannot downplay the role played by Muzenda in the liberation struggle and, by snubbing the Muzenda family; Mugabe wanted to water down Muzenda's significance. He does not want anyone from Masvingo, dead or alive, to get lime light," said Dr Zhou.
"Muzenda was known as the 'Soul of the Nation' and Mugabe told the gathering at his late VP's funeral that he actually lost his right hand-man. Now we are surprised when he decides to snub the family. I am sure Muzenda – wherever he is, he should be very angry after realising Mugabe's true colours," said another source.
Some people who spoke to this publication said government officials did not want Mugabe to go in the R section of Mucheke suburbs because they feared that he would come face to face with real Zimbabwean life where wretched people live in miserable squalor.
"The fact that he was addressing people facing squalid houses at Chikato known derisively as misana yenzou due to their dome shape was enough embarrassment. Mugabe is made to believe that everything is well in Zimbabwe but going to R36 was going to show the old man that he has ruined this country," said another source.
Some residents were angry saying Mugabe's visit left them poorer since their market stalls at Farai Community bar opposite Chikato Post Office were demolished as aides realized they would be an eyesore for the President.news