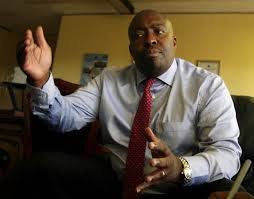 …move
a strain on civilian-military relations
Former
Zanu PF national political commissar and member of the once powerful G40
faction Saviour Kasukuwere attacked President Emmerson Mnangagwa for allegedly
dividing citizens by his government's decision to create subsidised basic
commodities shops for the army.
The
Minister of Finance and Economic Development Professor Mthuli Ncube recently
announced that soldiers will soon be buying subsidised goods from garrison
shops that will be funded by a special tax levied on every other civil servant.
In
a telephone interview with TellZim News, Kasukuwere, who is in self-imposed
exile, warned that the plan will back-fire.
"What
is the rationale really? All civil servants are equal and they should be
treated as such. They are working for the country and no one is more special
than the other.
"Zimbabweans
have suffered enough and they should be rewarded for their toil. Civil servants
are yearning for salary increments but their government is busy deducting their
salaries.
"Mnangagwa
has no decency at all and he lives large while his people suffer. He was
presented with a golden opportunity to unite the country but he plundered it
and killed those that challenged him," said Kasukuwere.
In
his announcement, Ncube said all civil servants except members of the military
will be levied a 2.5 percent 'garrison shop' tax which will be channeled
towards the revival grocery shops for the defense forces.
Many
people have, however, criticised the move as part of desperate efforts by a
failed government to pacify a restive military.
"This
is what happens when the country is in the hands of a mafia. The mafia does not
care about anyone else but themselves.
"They
are very selfish and they would rather watch everyone die than let their
interest get threatened. To them, Zimbabwe can burn just as long as they are
enjoying. No one cares, this is the unfortunate situation that we find
ourselves in," said Kasukuwere.
He
said President Mnangagwa was desperate to find ways of pacifying the army which
he knew very well could show him the exit door anytime.
"The army is running the country. Mnangagwa is
trying to save himself from sleeping with one eye open at night. We all know
the role played by the army to propel Mnangagwa to where he is today so if he
forgets the same people will kick him out.
"You
have seen Mnangagwa using the army to crush dissent so it is only logical for
him to make sure that his boys are happy," said Kasukuwere.
The
2.5 percent 'garrison tax' will add to the two percent transactional tax and
bank charges which already are a heavy burden on the poorly-remunerated
government workers.
Progressive
Teachers Union of Zimbabwe (PTUZ) president Dr Takavafira Zhou lashed out at
Ncube's latest policy announcement which he said was designed to worsen poverty
in the country.
"For
the Finance minister and the rest of cabinet to agree to tax civil servants 2.5
percent to set up shops that will sell subsidised commodities to members of the
army is lunacy.
"The
cabinet must be reminded that if they are so much interested in uplifting the
image of the army, they must pay the army well so that they can buy from shops
of their choice.
"Reducing
soldiers to ridicule and subsidisation by civil servants is dangerous and a
national security threat as it compromises the civilian-military relations,"
said Zhou.