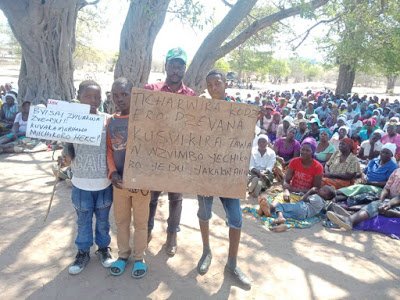 ….
parents keep children from school to protest sale of school land
BIKITA –
There
was commotion at Nehanda Primary in Bikita East Ward 24 when parents told their
children not to go to school in protest against council's decision to carve
away large pieces of school land for sale to home-seekers and businesses.
Parents
also gathered at the school on Monday, November 04, waving placards that
denounced what they called rampant corruption at the local authority.
The
parents chanted that they will prepared to face off with council officials and
defend their school from greed and corruption.
A
source that spoke to TellZim News said parents raised issues of corruption in
2012 but nothing changed up until this year.
"Parents
raised these issues seven years ago before shops were built within the school
premises but all complains were in vain. Corruption in the allocation of land
is increasing and all the school's land is being sold to businesses and people
who want to build houses. A bottle store was recently built in the school yard,"
said the source.
Nehanda
Primary was set up at the height of the Land Reform Programme, with the
Ministry of Lands allocating 40 hectares to the school.
Parents,
however, claim that council has consistently failed to respect the school's
boundaries and has been pegging off residential and commercial stands from that
same 40ha.
"We
are going to fight for the rights of our children until we find enough land for
our children because even 12 hectares recommended by the Ministry of Education
Policy is no longer available.
"Bikita
RDC is intransigent, corrupt and badly managed. The school has been shrunk to a
mere 7.5ha from the initial 40ha reserved for it during the Land Reform Programme,"
another angry parent told TellZim News by phone.
When
contacted for comment, Bikita RDC CEO Peter Chibi said he had not yet hear
about the issue and promised to get back to TellZim News but had not done so by
the time of going to print.
Bikita
East Member of Parliament (MP) Johnson Madhuku said he had received reports
about problems between parents and the school and had attended a meeting to try
and resolve the dispute.
"Parents
are really angry for what they suspect to be happening in council. It's sad
that children lost one day of school because of this. We are trying to work
together to address the grievances of our parents and we have just had a
meeting with the ward councilor and other stakeholders," said Madhuku.