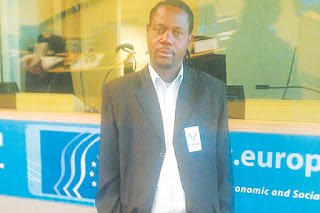 …as RBZ fails to avail US$4 000 to fix water problems
Upenyu
Chaota
City of Masvingo has recently found itself between a rock
and a hard place after bureaucratic red tapes at the Reserve Bank of Zimbabwe
(RBZ) stopped them from getting US$4 000 needed to import spares for its broken
down water pumping equipment.
The breakdowns have seen most parts of the city going
for two weeks with absolutely no water supplies.
An overvoltage incident resulted in the damage to all
the three interface control units at the intake tower abstraction pump station
at Bushmead, reducing pumping capacity to 70 percent.
Concerted efforts to get government allocate the money
needed to buy the required spares through RBZ failed to endless rules, forcing
the city to engage private companies for help.
Mayor Collen Maboke told TellZim News that the money
has already been paid and pumping will be back to normal by the end of the
week.
"A local company has come to our rescue and gave us
the US$4 000 because we could not get a response from RBZ in time. Our people
have suffered enough and we could not cope with the red tape at RBZ.
"We have already paid for the units and we hope by end
of the week, people will be having water. These parts are only available in
forex and as council, we do not have that currency.
"When we need forex, we have to apply to RBZ and it
takes time to get a response so we want to thank the company that helped the
city. A lot of people blamed the city council for not buying the forex on the
black market but we are not allowed to do so," said Maboke.
He refused to reveal the name of the company but word
has it that the helping hand came from Montana Carswell Meats (MCM), a local
abattoir business.
The condition of the assistance are yet to be
established but TellZim News will dig deeper to get to the bottom of the deal.
Residents' organisations have so far given the council
an ultimatum to restore normal water supply or be taken to task.
Masvingo United Residents and Ratepayers Alliance
(Murra) spokesperson, Godfrey Mtimba said council must lose sleep whenever a
crisis of that nature occurs.
"Our people have gone for two weeks without water and
that is enough reason for council officials to lose sleep. They have to go out
of their way to fix the problem or we will face them head on," said Mtimba.