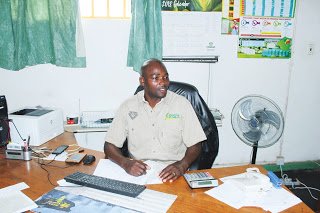 Last week we talked about an Avanos hybrid cucumber which I hope our valued farmers are very much interested in. This week we are talking about an outstanding Starke Ayres tomato hybrid called STAR 9009. The tomato seeds are produced by a reputable seed company called Charter Seeds
It is a determinate hybrid with outstanding disease resistance and long shelf life compared to other varieties. 9009 is a green plant determinate growth habit which enhance trellising to keep the fruit from diseases. The height varies from 1.4m to 1.7m which enhances 3 to 4 wires for trellising.
First and foremost, when a farmer wants to grow the fruit, he/she must prepare the land accordingly. This includes the testing of soil to find the alkalinity or acidity (Soil PH) of the soil intended to be used for growing the crop. This helps to determine the amount of nutrients needed and the rate of application. Local Agricultural extension officers may help to find areas where the soil testing is done.
When planting 9009 tomato, correct fertilizers such as Superfert compound C at a rate of 1000kg to 1500kg per hectare should be used. Farmers can use sulphate or potash, dolomite lime or vegetable blend as basal fertilizers.
It should also be noted that fertilizer should be correctly positioned to maintain a high nutrient intensity in each root zone since the zone of maximum nutrient uptake changes with root growth during the plant life. Root growth on tomato plants is very essential as it promotes good plant growth and continuous flowering. Fertilizer must be applied below the roots in 3 different depths or layers.
The plant population should range between 18 000 to 20 000 per hectare. That means in a row there should be a space of about 30cm and inter row 1.5m. This gives a good aeration space amongst the plants.
For top dressing, Ammonium nitrate super fertiliser at a rate of 8g per plant or 220g per 10m row on day 7, 14 and 28 after transplanting is ideal.
After that the farmer should apply Potassium Nitrate using the same rate as Ammonium Nitrate on day 35 and after every 10 days during their living period. Calcium nitrate super fertiliser is then applied during fruiting as a foliar spray at 1% solution or 10g per litre of water or 150g per 15l knapsack after every 2 weeks. NOTE, calcium nitrate should be applied early in the morning or late afternoon to avoid plant burnt by heat. Full plant cover should be applied.
PESTS
Chemicals like Lambda, Chlorpyrifos karate or Fenvelerate should be sprayed on wet soil to achieve best results as a way of eliminating cutworms
For White flies that spread diseases, farmers are urged to use effective chemicals such as thunder, Actara, Pilarmos or use superior liquid detergent soap.
Pests like the deadly Tuta Absoluta has caused a havoc to tomato farmers in Zimbabwe. This pest can reduce yields by 50% if not regularly monitored. Spray chemicals like Ambligo, Belt, Trigard, Levo, Cartap hydrochloride or steward can be used.
Another pest called Leaf miner can be controlled using karate DDVP or Dimethoate.
For Red spider mite, one of the commonest pest in most area, red spider kill, Amitraz, Abamectin, Diazinon, Dynamic or Tetradifon can be applied to control it.
For Heliothis larvae, farmers are urged to we use DDVP, karate or Fenvelerate while they can use oxamyl, velum or Solvigo for nematodes.
DISEASES
Early and late blight diseases can be controlled by spraying copper oxychloride, Dithane m45 or Mancozeb. Since these chemicals are used as preventive measures, the farmer need not to wait for the signs of the disease.
In case of infection by the blight diseases, a farmer ought to use Ridomil Gold, Bravo, Amistar top or Folio gold as curative method.
If the plant is affected by soil borne diseases, Thiram is the most appropriate chemical to use.
NOTE, insects and disease control do not depend on a single chemical but may use a combination of chemicals in conjunction with a wetter or sticker.
The maturity period of Starke Ayres tomato is between 80-85 days and the fruit weighs must be 150g. The yield per plant is 5 to 8kg or 100 to 160 tonnes per hectare and this must give us a good return in monitory value.
In the Masvingo a kilogram of tomatoes is selling at about $2.00, which a farmer can get at least $200 000.00 per hectare.
This is a good hybrid a farmer can plant. It has a high yield. We can plant star 9009 from late August to early March but year round if it's under greenhouse.
For more information you may contact me on
0772 137 202/ 0777 429 362 or our sales team on 039-2264246


Written by Vengai Defu
Farm and city manager