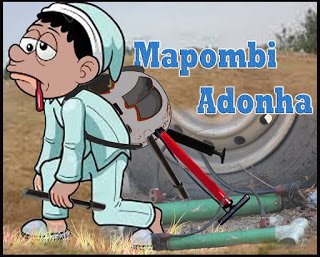 It has been one hell of a week and Mapombi has been
following the events closely ndakati zvangu zete kuno kuChitima. Wakafa havana
chawakaona chokwadi kkkk. Chinhu chaora ichi.
We now have two illegitimate presidents one running
the country and another running the biggest opposition party, the useless Joram
Gumbo was dropped and replaced by chibaba chedevelopment, chibabest Fortune
Chasi but I don't know what magic he has up his sleeves to resolve the fuel and
energy crisis. I hope Chasi urinates petrol and or diesel because akakandirwa
nyoka mhenyu.
Mapombi is baffled, I hear we are stuck with Panonetsa
Mangudya for the next five years again after Dambudzo renewed his contract.
Cry my beloved Zimbabweans, Zanu PF has once again
successfully diverted your attention from the bread and butter issues and given
you something to fight and argue about, good job ED and team.
Mapombi is in a good mood thanks to one brave Chief
Ndiweni from the City of Kings. Murume uyu ndiye murume pane vamwe varume. He
told Dambudzo kuti I don't recognise you kkkk and your term will be short
lived.
The Chief has been described as a national security
threat by none other than Mr IBu. Chimurume chiya ndakachivenga hangu. They
have tried to cow him down but he has remained resilient defending his people
both black and white. Stand up to tyranny Chief Ndiweni, Mapombi supports you.
I told you that there is drought of thinking in Zanu
PF which is why tapinzwa mugomba kudai. Muchinda wescarf yake uya hapana
chinoziikanwa and his wife Auxillia is fast becoming another Dr Stop it.
Kkkkk iye aripiko mazuvano warova Dr Stop it. Mukadzi
anga akaoma hake uya. Mumuromo make maiva makareruka but akatiudza hake chokwadi
about President Mnangagwa. We chose to ignore her and called her stupid but
tava kuzipigwa manje.
Mapombi being a woman of stature, would like to give
some advice to The First Lady and Health Ambassador Auxillia Mnangagwa that
this country is not their private enterprise which they can do whatever they
want with. Auxillia mumwe wangu, stay home, cook for your husband and do other
things to keep yourself busy and leave the running of the country to those who
rigged into office. Mukadzi uyu tikanatsa kumupa nguva yake anogona kutinetsa
mangwana, so Stop It!!!
But Dambudzo does not care at all. Shuwa kuwedzera
dzimwe five years on the term of office for Mangudya who has made our lives a
living hell. We thought Dambudzo would have mercy on us and fire this Panonetsa
guy but alas, kunetsa kunobhadhara wena kkkk. Takakutadzireiko iyesu nhai
Dambudzo chaita utidaro nhasi.
We should not be surprised, after all, this is the
President who once said his biggest challenge since taking over power from
Uncle Bob is being humble. By the way, the only way to power is to take it
because power is not inherited, ask Dambudzo and Chamisa.
Now Mapombi hears that they want to take power from
Chamisa kumudzosera back kuna 2014 kwaanga ari secretary for research and
policy in MDC kkkkk. Zanu PF inonzi tamba wakachenjera otherwise unonyura. They
have realised that Chamisa is a hot head and the only way to neutralise him is
to make him illegitimate. An illegitimate Dambudzo and an illegitimate Chamisa
kkkk, the struggle is real.
I don't know anything about the law but I think this
judgement by the High Court is nothing but an insult to our judiciary system.
Zanu PF has successfully made a mockery of our police and army. We used to
respect these institutions but now they have been reduced to a laughing stock.
This is the same way our justice system is headed.
Akushaisai hope here Chamisa zvekuti mabva
mamumorongera hondo kudai. But Chamisa kachowo kanazvo, why do you refuse to
dialogue with others. But Dambudzo must be serious with the suffering masses.
How can you dialogue with the likes of Brian Mteki who got only one vote in the
length and breadth of Masvingo Province?
Mapombi doesn't get angry easily but I was infuriated
when one of the losers dialoguing with Dambudzo recorded himself saying they
are chopping our money at Rainbow Towers Hotel in the capital. Hanzi tiri kudya
mari yenyika vana Chamisa vanchingoramba. And we expect these guys to move the
country forward? Munhu arikutovhunduka zvake hotera. They are all singing for
their supper and showering praises on Mnangagwa who apparently has captured
them all, except for Chamisa.
Chamisa has always said Dambudzo is illegitimate and
took him to the Constitutional Court but the court ruled to Dambudzo's favour.
Now the court has labelled Chamisa illegitimate raising serious questions like,
What the hell is going on? Now we have two illegitimate presidents kkkk. Zvakuda
vakuru vanofamba naJesu izvi.
Chamisa atova illegitimate nguvai ipapa. Chamisa is an
idea whose time has come. Let him do his thing please. No amount of spanners
you can throw in his way will stop the young man. We have suffered enough and
we need change. Chero mukati illegitimate Chamisa tinomira naye. Ndiye akasiiwa
naSave. Mapombi can tell you that they just want to take all the party assets
from Chamisa's MDC and give them to Khupe and I know fighting this case in the
Zanu PF courts is a waste of time because the outcome tese toiziva.
But I have faith in the fulcrum and the pith, Thabani
Mpofu. I like it when a young generation fight from one corner kwete zvana
Madhuku nemusoro banga hanzi Khupe is the legitimate president of MDC, which
MDC nhai Madhuku.
You can strip Chamisa of all the assets, moveable or
immoveable, but the man is very popular. The plan is to cripple Chamisa and
weaken him because 2023 Zanu ichanyara chero kubirira kwacho. Tatambura enough
mhani mazivanhu imi.
Ini Mapombi handisi dofo stereki zvekuti nyika ikanaka
I can even get a good job. Ndinotodawo kubva kuno kuChitima nekudyawo chikafu
chakanaka kwete zvemabanana akaora aya nekurarira maputi.
But chero hangu ndisiri that conversant with the legal
processes, Zanu PF ndinoitenda nekuti yatizivisa zvakawanda. Takutoonerawo
zvimwe kulaw ikoko. Mapombi can tell you that the High Court judgement is a
brutum fulmen kkkk.
I have said enough and I will end here. I can't wait
for May 24 to May 26 tinogadza this illegitimate young man. But to Chamisa I
say, you brought this on yourself young man kkkkk. How can you say you will
drag Dambudzo to dialogue kicking and screaming? Uri mudziva reNgwena chikomana
tread carefully. Wapihwa the first warning and we wait to see how it will end.
Regai ndinokanga hangu maputi angu before ndanzi ndotaura chokwadi. Mboko
imboko.