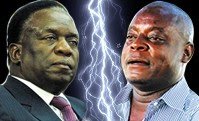 Upenyu Chaota
In a move which could seal the fate of Team Lacoste, the Zanu-PF Bikita district has resolved to rally behind the First Family and threatened to fire and bar anyone linked to the embattled Vice President Emmerson Mnangagwa from participating in party activities.
Addressing party supporters at an inter-district meeting in Bikita last Saturday, Zanu-PF chairmen in Bikita district unanimously agreed that they will rally behind President Mugabe and his wife Grace and insisted that anyone who wants to usurp powers from the First Family was going to face a mammoth task especially in Bikita.
Zanu-PF Masvingo provincial Political Commissar, Jeppy Jaboon also added his voice and emphasised that people of Bikita have made their position clear that they are for President Mugabe and his wife, and no one else.
"We are tired of this Team Lacoste talk. In Zanu-PF we all rally behind the President and his wife. We do not tolerate anyone who comes and say otherwise. If you know you are linked to Team Lacoste, be warned because here in Bikita we will deal with you. We will fire you without hesitation because you would have proven to be a sell-out.
"There are those who say we like the President and not his wife. That must come to a stop because you cannot like President Mugabe and dislike Dr Grace. If you like the President, then you have to like his wife too or you have to ship out," said Jaboon.
Jaboon warned even politburo members who are aligned to Mnangagwa that they would be barred from Bikita.
"I do not care how much power a person wields, even politburo members have to shape up because they would not be welcome here in Bikita if they are linked to Team Lacoste. We agreed that we would support the President and his wife to death. Even our chairmen in Bikita they have all sided with President Mugabe and Dr Grace. We will never be loyal to anyone besides our dear leader," said Jaboon.
Jaboon's statements are likely to give more ground to Generation 40 (G40), another faction within the ruling party, which is said to be aligned to the First Lady Grace Mugabe.
On Friday last week in Gutu, while paying condolence to the late Chief Gutu who passed on in 2013, President Mugabe literally drove the last nail on the Team Lacoste coffin when he told war veterans that the youths will take over after they are gone.politics
—

He who said it can not be done must not disturb the one doing it!