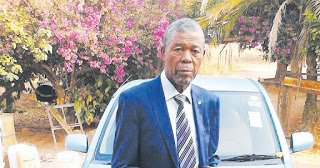 ….looks forward to new motorbikes
Brighton Chiseva
ZAKA – The cash-strapped Zaka Rural District Council recently
splurged thousands of dollars on expensive smartphones for the 34 councilors, a move
which has drawn sharp criticism from residents who accuse the local authority
of misplaced priorities.
Residents accused the local
authority of failing to prioritise more important issues like refuse collection
and provision of safe and reliable water for domestic use.
"Jerera has no dumpsite and
council cannot even collect refuse regularly. We therefore feel that the
councillors and council management are serving themselves," said a Jerera
resident.
When contacted for comment, council
chairperson Cornelius Mapuranga justified the purchase but refused to divulge
the type of cellphones bought for councillors.
Some sources, however, said each
councillor got a 10-inch Samsung Galaxy Tab 3 which trades in some South
African retail outlets for R8 000, an equivalent of US$572. The phone comes
with a standard 34 gigabytes of internal memory.
Mapuranga said councillors were
now looking forward to getting motorbikes when the authority's financial
position 'improves'.
"We wanted to ease the burden of
communication so we bought the cellphones. Our wards are big and we cannot be
travelling all the time. We need to use the cellphones to communicate. The type
of phones we bought doesn't matter, what matters is that we now have easy
communication with our people. We are now looking forward to getting motorbikes
in the near future," said Mapuranga.
Chief Executive Officer (CEO)
David Majaura refused to comment, saying he was out of office and referred all
comments to administrator Nancy Chatikobo who was also not available.
A 2017 full council resolution
rejected demands by some councillors for motorbikes and only approved
cellphones which, however, could not be bought until now.
Zaka District Development
Coordinator (DCC) Ndeya Nyede defended the move and said the money will be
recovered during the councillors' term of office in the same manner that a
stands-for-councillors scheme works.
"The money will be recovered
during their term of office. For effective communication, it's important that
they got those phones. The government is preaching E-governance so it's a
positive start," said Nyede.