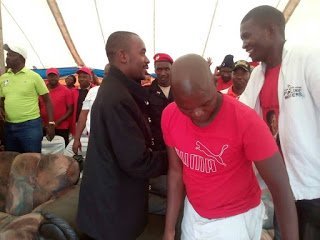 Upenyu
Chaota
MASVINGO—
MDC leader Nelson Chamisa has claimed that he was
blocked from paying a visit to the party's deputy national chairperson Job
Sikhala at Masvingo Remand Prison where he is held on charges of subversion.
Addressing thousands of party supporters at Mucheke
Stadium this afternoon, Chamisa said he went Masvingo Remand Prison to see
Sikhala but prison guards lied to him that he had been moved to Mutimurefu Prison.
Chamisa claimed the guards were under specific instructions
to block him.
"Before I came here, I paid a visit to Masvingo Remand
Prison wanting to see our deputy chairperson Sikhala but we were told he was at
Mutimurefu. We drove to Mutimurefu and we were told Sikhala is at Masvingo
Central Police Station.
"We drove back to Masvingo Central Police Station and
we were told Sikhala is at Remand Prison and we went back there again. We were
then told that there is an instruction to stop me from seeing Sikhala and
anyone who let me in would be fired," said Chamisa.
Chamisa said the prison officers were under instruction
to call their superiors once he arrived and he waited for close to an hour
while the prison officers went back and forth making phone calls.
"They were making phone calls to their bosses in
Harare and they were told not to let us through. I told them that the end of
Zanu PF is near and they should not abuse the law. The prison officers then
told us that they were warned that if they allowed us in, they would be
imprisoned," said Chamisa.
Chamisa said riot police showed up from nowhere saying
they had been sent to make sure that there were no disturbances at the prison.
Sikhala is expected to apply for bail at Masvingo High
Court tomorrow, July 15.