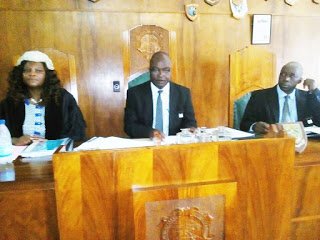 ​
Chikozho(centre) with Town Clerk; Elizabeth Gwatipedza (left) and Ndauta
…Kombayi submits incomplete mayoral regalia
GWERU –
City of Gweru has a new mayor: Ward 9 Councillor Charles Chikozho of the Movement for Democratic Change (MDC-T) who has stepped in to replace fellow party colleague, Hamutendi Kombayi.
Chikozho beat Zanu PF's Ward 5 Councillor Bonface Magara of Zanu PF with ten votes to six.
Chikozho will be deputised by his MDC-T colleague; Councillor Willard Ndauta of Ward 8 who beat Zanu PF's Charles Simbi to land the post.
Speaking to TellZim News soon after the election, Chikozho said he is ready to fulfil his mayoral promises to residents of Gweru.
"I made promises to bring Gweru back to sanity and I will keep that promise. I don't want to talk much because it will seem I am neglecting other problems currently being faced by the city but surely, engagement supported by action will be taken to bring the city back to its status," said Chikozho.
Former Mayor Hamutendi Kombayi, who was fired last month by Local Government Minister Saviour Kasukuwere over alleged acts for misconduct, has returned the mayoral regalia but its chain was later discovered to have been incomplete, with some of its golden parts missing.politics, local, topnews