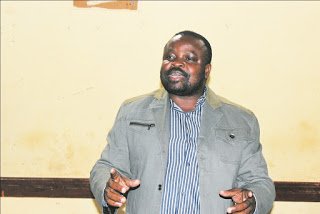 Darlington Chiwa
…as Hwarare bounced back as CSFAZ chairperson
Beatific Gumbwanda
CHIREDZI – Chiredzi West legislator and member of the Commercial Sugarcane Farmers Association of Zimbabwe (CSFAZ), Darlington Chiwa last week lashed out at the organisation's former secretary general Roy Bhila and chairperson Tawanda Mafurutu whom he accused of failing to advance the interests of members and selling out to Tongaat Hullet Zimbabwe.
Chiwa and other members of CSFAZ had for long been fighting against Bhila and Mafurutu over alleged mismanagement. He had also been actively working to prop up Addmore Hwarare who has since bounced back as chairperson after winning elections.
Addressing farmers before the announcement of the election results, Chiwa said all the problems being faced in the sugar industry emanated from failure on the part of Bhila and Mafurutu.
"There is no farmer who can fight his/her colleague. Our main opponent is Tongaat Hullet which is manipulating Bhila and Mafurutu. We had an agreement on the payment of by-products which was signed in June 2014 but nothing has yet been paid.
"Bhila and Mafurutu were busy defending Tongaat instead of facilitating for the payment of those by-products.
They are being paid by Tongaat thereby worsening problems we face as farmers. Administrator, please check the print out of trucks that transport sugar from Tongaat, you will find out that other transporters are given fewer loads than those given to these two men. They would rather die fighting to remain in office because they were benefiting a lot," said Chiwa.
Bhila and Mafurutu had made a High Court application through their lawyer Alex Nduna in a bid to postpone elections and give the Mafurutu executive a chance to balance its books which are reportedly 'tattered'.
CSFAZ administrator Jairos Masiye, however, told the farmers that he would only accept a High Court interdict which is served by the Sherriff of the High Court.
"There are speculations that there is a High Court document barring the continuation of these elections. I will only accept an interdict served by Sherriff of the High Court, and not a lawyer," said Masiye.
Addmore Hwarare was voted chairperson while Julius Changamire was voted vice chairperson. Ralph Sakupwanya was elected secretary general while Collin Togarepi was elected treasurer general.local