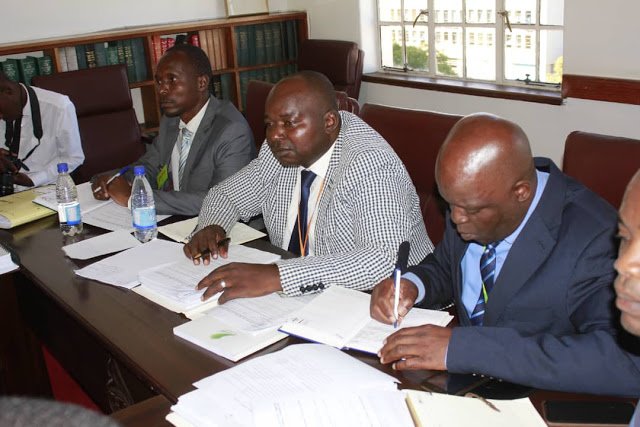 Raidza (centre) and his committee colleagues during proceedings
Shingirai Vambe
HARARE – Zimbabwe National Road Administration (Zinara) board
members led by Michael Madanha on Monday came to parliament unprepared to
answer questions from the Parliamentary Portfolio Committee on Public Accounts.
The board members were expected
to give oral evidence to the committee on the 2016-2017 adverse report by the Auditor
General. They, however, angered parliamentarians by failing to answer questions
from the committee.
Initially, the board members must
have presented itself before parliament on Monday, May 06, but they did not go
due to other reasons.
With MDC Harare East MP Tendai
Biti being absent, the committee was chaired by Zanu PF Mberengwa East MP Marko
Raidza who then asked the team to return on May 20 after they failed to respond
to issues raised.
This angered many other MPs who
felt that parliament was being taken for granted.
"They should go back and read the
report then present the case before this parliament," said MDC Harare North MP
Rusty Markham.
Madanha, who is a Zanu PF member
and former Transport deputy minister, became Zinara board chairperson in
January after the dissolution of the previous board in October 2018.
Responding to other questions
that were raised during the abortive session, Madanha said the board was only
three months old and had not had ample time to study the AG's report.
MPs, however, accused the board
of disrespecting parliament's business and wasting taxpayers' resources by
trivializing the house which uses public resources to organise a session.
Zinara is currently embroiled in
corruption scandals, with executives accused of milking the State-owned company
of millions of dollars for personal use.