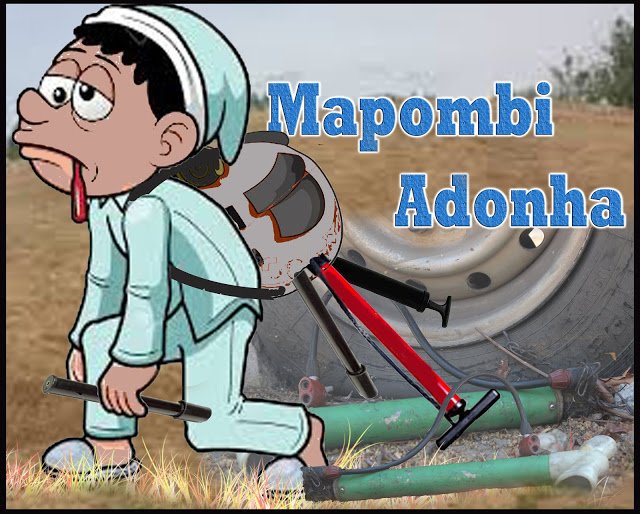 May someone please tell Manyanga
kuti zizi harina nyanga. That little Masvingo Ward 10 councillor needs help
because he lacks intelligence anongove mazinyanga zvawo anoremera musoro
webhuru! Mapombi strongly believes that Manyanga was not fully-oriented when he
joined Zanu PF or paakazvarirwa muZanu PF as he claimed. By the way,
akambogumira grade aniko? Mukati chitupa cheGrade 7 chiripo ipo paya?
Manyanga knows very little but
violence and intimidation alone. After threatening to beat up council
management mazuva apera iwawa, he thought that was not enough and stormed TellZim
News newsroom. Kkkkkk manje makanyeberewa isu nyanga idzodzo tinodzidzura isu
vana Mapombi rakacheka nyika kudai.
Remember dziva guru idiva kamwe ukadzoka
kepiri unowana ngwena dzasvinura – to be warned is to be forearmed!
We will never be intimidated by a
green bomber kkkkkkk masoja chaiwo hatimatye kuzotiwo iwe green bomber zvako
kkkkkk zvinoita nhamo so kaa. The real Zanu PF supporters that Mapombi knows
don't behave like Manyanga. Anyway, you can storm our newsroom again and these
time inini Mapombi ndinenge ndakatokumirira. Enda kunight school kana usina
zvekuita not moving around threatening people. Or you can threaten Bakers Inn
employees like you did, but certainly not our newsroom because hapana chaunoita
chatisingagone. In fact, it is us who can do other things that you are not
capable of doing so tidzikamire!
Anyway, we should not waste time
disciplining this not so intelligent councillor who thinks being a councillor
is a big achievement. We have more serious issues or crisis to deal with, like
praying for VP Chiwenga who is alive but not feeling well.
Of course, if one asks Dead BC
they will tell you that VP Chiwenga is alive and well, but if you ask someone
like Mapombi who hardly practices self-censorship, she will tell you kuti
mukuru warwara. Dead BC kkk kana Mutodi chaiye akatiwo hanzi it's a dead horse.
Ndiyaniwo achiri kushandira dead horse mazuvano? Kkkkk. Anyway, coming back to
the good VP, kuri kwedu kumusha madhara ndopaanenge ava kuti tofara kwaedza,
therefore, there is really need to pray for our VP.
There are a lot of things that I
appreciate from Chiwenga – how he chooses to pronounce certain words and his
temperamental behavior is so amazing! It didn't take him hours to fire all the
nurses who went on strike gore riya; he also fired 30 top senior police
officers before ED reversed it. This is the kind of a man our VP is. He is a
brave man and we should therefore pray for him kuti hutano huite zvakanaka.
But I liked one thing about Cde
Kedha; he confessed that he knows that rudhende rwevanhu do not like him and they
wish him dead. It's very true that people don't like you my VP and if I were
you, I would simply resign. My genuine and sisterly advice is endai kumba
mundozorora vaChiwenga; makarwa kurwa kwakanaka munaNovember 2017 vana
veZimbabwe vakafara but it's now time for you to rest muchitererera muviri. Mapombi
can assure you that by doing so, you would earn a lot of respect from the
citizens. Take this advice seriously, please.
By the way, who on earth can go
for a national dialogue and engagement meeting with a written speech? Mapombi
does not understand ED; chokwadi kutoverenga speech at the so called national
dialogue meeting; it proved there was no dialogue but it was just a platform
for ED to deliver his prepared speech. The speech was totally empty of any
substance!
Dialogue imply people engaging in
a mutual manner, therefore, there is no need to prepare a speech because one
cannot predict what will be discussed and what other members would say. The
platform was only meant for ED to tell the people that he won the elections –
something which we all know including Justice Malaba.
Mapombi would like to congratulate
the MDC Alliance leader Chamisa for not attending the so called dialogue
meeting. It was a dialogue of shame and only those with thick skins attended. Of
course the nation is desperate for our leaders to engage but this kind of engagement
whereby one comes and reads his speech vanhu vototorana pictures hahahahaha hakuna
zvakadaro. I thought it is only the youths who enjoy taking pictures and
selfies but chero nemadhara anotodawo wena kkkkkk.
Mapombi never thought people
would dress in their best outfits kuenda kundotorwa mapicture kuState House.
Zanu is not yet ready for talks
and they are simply buying time because they are expecting miracles to happen
in our economy this March. Mapombi can safely tell you that Zanu will only be
serious about dialogue from April going forward.
Mapombi urges Chamisa to remain
calm; kana vava kuda dialogue vachauya havo. There is no need to go to ED's
office for a dialogue because they will come to a neutral venue when they are
serious about dialogue. Uncle Bob chaivo chose Rainbow Towers for a dialogue
with Tsvangirai vaona kuti nyika havachaigone iyi.
Kkkkkkkk there is a joke doing
the rounds on social media saying Chamisa said he did not attend the national
dialogue meeting because he wanted to give chance those who lost presidential
elections kuti vambotaurirana hahahahaha.
But ini hangu Mapombi I am
failing to understand our army and the police; in fact I no longer have
confidence and trust in our security. If civilians can go and steal arms from the
armory and get away with it, what more if they are attacked by outsiders?
We know that the armory is heavily-guarded
but ukaona vanhuwo zvavo voba zvese hembe nepfuti zvoreva kuti kwabooka.
And the fun thing is vana
Nyikayaramba nanaCharity havatonyare wena kutoti takabirwa nemaCivilian and few
rogue officers kkkkkkk nyaraiwo kani imi. All along, I had thought age comes
with wisdom but ummmm pana Charity naNyikayaramba zvokwadi nyika yaramba
zvisina maturo.
Mapombi is always a gentleman
ndinofira kureva ini; the current leadership relies more on brute force than
kushandisawo njere. Why raping innocent women and children? Why beating up
women? Why? Why ED?
Anyway, it's almost lunch time
let me go ndindokanga zvangu maputi angu for lunch but let us not forget to
pray for Dr Kedha utano hwavo hauna kumira zvakanaka. I know very well that people
don't like him – maybe it's because of how he chooses to pronounce certain
words or he is generally unlikable. But remember chakaona hama hachisekwe.
I remember ED vakamboitirwa
national prayer when he willingly ate ice cream in Gwanda so why not having a
national prayer for Dr Dhibhiritating? Think about it Cdes! Before I go, any
word from Mphoko? The incubators he donated in Bikita during by-elections have
indeed empowered the women there. Mboko imboko!