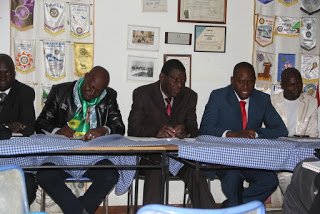 ZRP Ass Com Makedenge (second from left) with Zanu PF representative Fainos Makwarimba (left), MDC Alliance's Jacob Nyokanhete and Sam Chapfudza (Independent)


…'our posters being defaced'
…ZRP praised for newfound professionalism
The Zimbabwe Republic Police (ZRP) on Friday, July 06, teamed up with local government and parliamentary candidates in Masvingo Urban, calling for a peaceful environment to prevail in the build up to the July 30 harmonised elections.
In a dialogue meeting organised by Tell Zimbabwe at Civic Centre last week, Assistant Commissioner Crispen Makedenge, who is in charge of operations in Masvingo province, said the force was ready to clamp down on any unruly elements of political violence and bring them to book.
"Peace begins with me, peace begins with you and peace begins with all of us. We urge all political parties and aspiring candidates to conduct their campaigns peacefully.
"We are glad that this year's elections are peaceful as compared to previous elections. Currently the situation in Masvingo province is calm and we have very few cases of political intra and inter party violence.
"We have put in place citizen police investigators and have also lobbied the National Prosecution Authority (NPA) and the Judiciary Services Commission (JSC) to fast track all cases of political violence so that all the perpetrators are brought to book," said Makedenge.
He said people should heed President Emmerson Mnangagwa's call for peace and praised political parties for signing the peace pledge.
"As the ZRP, we have a constitutional mandate of maintaining peace and order before, during and after the elections.
"We are pleased that all parties signed the peace pledge and we hope that they will all walk the talk. Let us work hand in glove so that we have a smooth election. We need to show the whole world that we are a peace-loving nation because all eyes will be on us during this election," Makedenge said.
Only once winner for each race
Masvingo Urban independent parliamentary candidate, Sam Chapfudza also took time to spread the peace gospel. He said his campaign had so far not experienced and human-induced obstacles and had not faced any hostility.
"The situation obtaining on the ground is so encouraging. There is peace all over and I hope all the parties will keep on campaigning peacefully.
"My posters and banners have not been tampered with, meaning there is tolerance. For peace to prevail before, during and after elections, there should be measures put in place to make sure that our people are happy with the governing of the country.
"There are 23 presidential candidates in the country and here in Masvingo urban there are three aspiring parliamentary candidates. We cannot all win in the election and it takes maturity for all candidates to accept the election results.
"We have to accept the outcome of this election so that peace prevails. Even here, we cannot all go to parliament. One of us has to go and the rest should accept the outcome so that peace prevails," said Chapfudza.
MDC Alliance parliamentary candidate, Jacob Nyokanhete also hailed the levels of tolerance across the political divide though he complained that most of his posters were being torn away.
"For this election to pass legitimacy test, more still needs to be done. The level of tolerance across the political divide is laudable but we are still facing the challenge of our posters being pulled down.
ZEC must be truly neutral
"We call upon the police to deal with the culprits so that would be offenders would be discouraged. We need peace to prevail during this election period and we call upon the ZEC (Zimbabwe Electoral Commission) to play a neutral role in ensuring that the elections are credible.
"If ZEC fails to be professional and decides to side with Zanu PF then we will have a problem of a disputed poll which will render the whole process null and void. ZEC should be transparent and let all the political parties have access to the printing of the ballot papers just like our president Nelson Chamisa is pushing for," said Nyokanhete.
President Mnangagwa has removed fear in communities
Zanu PF's Masvingo provincial deputy commissar, Fainos Makwarimba, who stood for his party's parliamentary candidate Taguma Benjaman Mazarire said tolerance is the way to go and people should desist from using violence as an instrument of coercion.
"This is the new dispensation and we have a new way of doing things. Gone are the days when we used to assault each other to gain votes. If you beat up a person you will go to jail and no party can protect you. I am glad that our police are now professional in this new dispensation and no one is above the law.
"We should remember we are all Zimbabweans first and that should be enough to give birth to the highest levels of tolerance we are seeing in the build up towards the July 30 polls.
"We should put Masvingo first when we vote in this election. If you choose a wrong candidate, we will remain underdeveloped as has been the case over the years. This time Zanu PF, has given you the best candidate and you should vote for him," said Makwarimba.
Aspiring councillors at the dialogue also took time to spread the message of peace and called on the police to shun favouritism on all cases to do with electoral offenses.
Three other local government candidates; Collen Maboke, David Chimombe and Godfrey Kurauone also attended the event.
Moboke complained that all his posters had been removed by suspected Zanu PF activists while some of President Emmerson Mnangagwa's posters had been put on top of his.top news