Masvingo Province clinched its tenth title in the just ended National Association of School Heads (NASH) Copa Coca-Cola tournament, with Dewure High School's Under 16 boys and Chidyamakono High School Under 17 girls emerging with gold at the finals held in the Bulawayo last weekend.
Chidyamakono defended its title for the third time, whilst Dewures High School's Under 16 boys team scooped gold to snatch the trophy that was being defended by Chemhanza High School of Manicaland.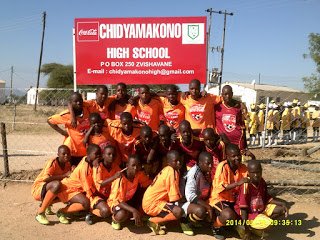 Chidyamakono proved to be the best side in girls' soccer, when they dismissed St Francis by a goal to nil in the finals to record their third successive win in a row in the history of the tournament.
Dewure High which ended a five year trophy drought were crowned champions of the under 16 national Copa-Coca Cola NASH champions after recovering from a three one lead to become champions in penalty shootout against Rujeko of Mashonaland.
Masvingo provincial NASH chairman Cuthbert Chuma congratulated both teams for their performance and also extending the tally and also making the province proud.
"I would like to express my happiness by congratulating our two teams for winning and extending our tally to ten times NASH champions, thereby making our province proud as a power house of soccer in the country", said Chuma.
Previously Masvingo province's Hippo Valley high won in 1990, 1991, 1996 and 1997. Mashoko high school was crowned champions in 1995. Pamashana high school were champions in 2007, Dewure high last won the trophy in 2010.
In girl's category chidyamakono High School were crowned champions two times in a row in 2013 and 2014 respectively.Sport