The ever-increasing cases of Sexually Transmitted Infections (STIs) in Masvingo has become a worrying factor, Zimbabwe National Family Planning Council has said.
There has been an alarming increase in new STI cases in the province in the first quarter of 2015 compared to 2014's last quarter.
Speaking at a wellness and clean-up campaign facilitated by the organization recently, ZNFPC Provincial Manager Peter Vhoko said STIs have become a perennial problem for Masvingo.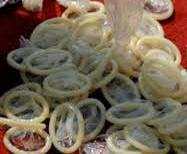 People are not using condoms
"STIs are a proxy to HIV and we have a problem of STIs in our province. Statistics from National Aids Council show that Masvingo Province recorded a 12,5 percent increase in the number of new STI cases, from 7141 in 2014's fourth quarter to 8166 in the 2015 first quarter, " Vhoko said.
"The increase in STI cases is a worrying factor as it indicates that people are indulging in unprotected sex, which increases the risk of spread of HIV," Vhoko said.
"The high STI cases are attributed to lack of knowledge, unfaithfulness and inconsistent use of condoms in the community," he added.
Vhoko also said low contact tracing and low HIV testing among the STI clients are a threat to the fight against the HIV pandemic, adding that the high number of STI cases recorded in the province's health centres may also be a positive sign.
"On a positive note, the high number of STI cases recorded in our health centres may also be a sign of improving health seeking behavior amongst our people," Vhoko said.
Statistics show that the number of contacts that were traced and treated for STIs with their partners increased from 619 in 2014 fourth quarter to 1357 in first quarter 2015.