…school become most successful day
school in Gutu district
Theresa
Takafuma
Mpandawana High is in a sustained bid
to achieve financial self-sufficiency by leveraging its flourishing
income-generating projects which are meant to counter the effects of the
prevailing difficult economic conditions on the school.
The school, which is the biggest
day-school in Gutu district, enrols pupils from all backgrounds without elitist
screening practices.
The school has now reached a
remarkable stage in its attempt to satisfy its resource-based needs by making
wise use of earnings generated from its agricultural and other practical
projects.
Mpandawana High School head Engelbert
Chimbwari says he is confident of the potential of the income-generating
projects to satisfy much of the school's financial needs.
With the help of its technical staff,
the school is already making its own desks and other pieces of furniture thereby
saving money through the reduction of the cost of outside purchasing.
"We have skilled personnel here who
can do the carpentry. The practice is that we just buy materials and they do
the work. With our big enrolment, we need lots of classroom furniture so making
that on our own eases the burden in a substantial way," said Chimbwari.
He said the school had a big
enrolment of over 1300 pupils, a development which makes the need for larger facilities
and furniture all the more paramount.
"Our long-term plan is to have our
gardening, poultry, piggery, fishery and gardening projects financing a biggest
portion of our budgetary requirements.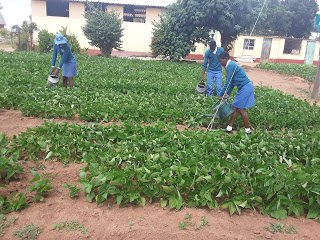 "Poultry is one of our biggest
projects and we do not just keep the common broilers. We have roadrunners, guinea
fowls, ducks, geese, turkeys and rabbits that we breed for sale. We also do
bee-keeping in 20 hives and we harvest the honey at least twice a year.
"Egg-production is done throughout
the year as we have a batch of layers producing eggs all the time," said
Chimbwari.
The school has arguably one of the
biggest piggery projects in the district if not the whole of Masvingo province,
with one of the boars weighing stunning 300kg or better.
The massive boar has often been
paraded at local agricultural show exhibitions as evidence of the potential of
local agricultural expertise.
"We used to have over 200 hundred
pigs at any given time but we have downsized that to around 60 due to the
scarcity of feed. Maize is hardly available and processed pig feed is expensive
and that is why we downgraded. We do grow maize and beans in our school garden
but then we have to cover other areas," Chimbwari said.
Mpandawana High School also boasts a
big pond where fish are kept for sale, with waste from the poultry projects
being used as feed for the fish.
To water all these projects, the
school has installed a borehole that uses a submersible pump which feeds big
storage tanks.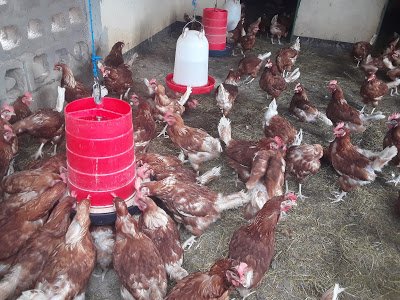 "We genuinely want the school's
developmental plans to be financially-sustainable so we are giving this all the
attention it deserves. The school should be able to engender into pupils a
culture of hard work and meticulous management of projects. Pupils must be able
to replicate what they see here later on in their lives when they have left
school," Chimbwari said.
He said Mpandawana High aimed to be a
school of excellence by coming up with demonstrable success stories.