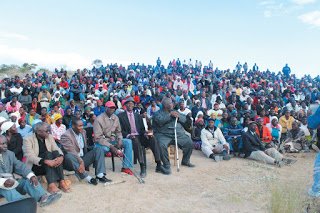 Itai Muzondo
Former Zanu-PF Masvingo Women's League Chairperson and Zimbabwe People First (Zim PF) member, Shylet Uyoyo last week said President Robert Mugabe has never been the people's choice since he came into power.
Uyoyo, who is now the national women's league secretary of ZimPF, was addressing a rally at Maungwa business centre in Gutu South.
She likened Mugabe to an inconsiderate father who does not care for his own family.
"Mugabe did not fight in the war; he was an outsider in its leadership. We knew Josiah Tongogara and Solomon Mujuru but he was forced upon us and people were then forced to vote for him in 1980," Uyoyo said.
She said the people only voted for Mugabe not out of love for him but out of eagerness to get rid of colonial bondage.
"We were wrong to put him in power. I never imagined a president who lies, a president with no heart, a president who kills. He is only worried with safeguarding his family while the nation suffers," Uyoyo said.
Retired Colonel Kudzai Mbudzi blasted Mugabe for making empty promises over the years.
"I was in the same plane with Mugabe when he returned from exile in 1980 and he made a lot of promises but has fulfilled none. If you are wise, why should you stick to him when the likes of us who were closer to him have given up," said Mbudzi.
Another senior member of the party, Dzikamai Mavhaire said even the blind can now see that Mugabe has nothing to offer. 
 "Who is Mugabe to say Mujuru never went to war when she went to Mozambique in 1972 with Mugabe following later in 1976? He blames white people for the economic problems but no white person has ever flown to Zimbabwe to close shop. We are in this mess because of his misrule," said Mavhaire.news
—
Tel :         +263 39 262 401 
He who said it can not be done must not disturb the one doing it!