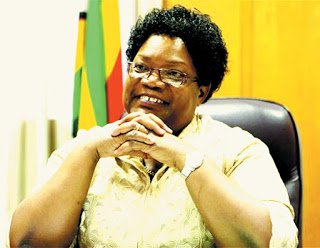 Itai Muzondo
Zimbabwe People First (ZimPF) leader and former Vice-President, Joice Mujuru's number of followers is set be measured in the ongoing game of numbers as she prepares to go on national tour from June to July this year.
ZimPF Provincial Spokesperson Retired Colonel Kudzai Mbudzi told TellZim News that Mujuru is set to meet the people and mobilise supporters during the extensive tours which will also take her to Masvingo.
"ZimPF President Joyce Mujuru will commence her tour with a Bulawayo rally tipped for 18 June, followed Harare; 26 June, Masvingo; 6 July, Mashonaland East; 8 July and Manicaland on the July 9. 
"President Mujuru will then resume her rallies on July 13 in Matabeleland North, July 15; Mashonaland Central, July 16; Midlands, July 20; Mashonaland West, July 23; Matabeleland South and the final launch whose venue is yet to be announced will be on the 30th of July," Mbudzi said.
After the MDC-T managed to pull considerable numbers in their demonstrations against the worsening political and economic crisis that are blamed on Zanu-PF misrule, the ruling party retaliated with the 'Million Men March' but Zimbabweans are looking forward to what Mujuru would bring on the board.
"Yes, people expect to see what numbers we will be able to pull since politics is definitely a game of numbers. As it is a game of numbers, we however do not believe in bussed numbers. We do not push people to our rallies by force because audiences used for stage management will not vote for you," said Mbudzi.news
—
Tel :         +263 39 262 401 
He who said it can not be done must not disturb the one doing it!