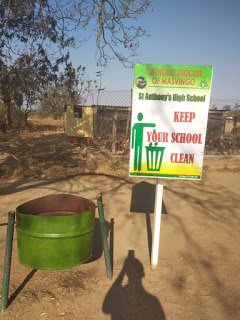 Emmaculate Mukokoromba
ZAKA
– St Anthony's Musiso High School has set an example by heeding calls by
the Environmental Management Agency (Ema) to create and sustain a litter-free
environment by making rubbish bins readily available throughout the school area.
The
school has set good precedence for other schools and organisations in Zaka by
placing litter bins at all vantage places around the school including in the
sport grounds.
St
Anthony's Musiso High School head Joram Mawana said that the appearance of the
school should be in line with set standards to help market the brand and build
a culture of cleanliness among pupils and everybody else.
"We
have to keep a clean school environment and cultivate a clean culture in our
pupils so that wherever they go in future, they will know that they have to
keep their surroundings clean. This helps to market the school at large and it reflects
our standards as a school," said Mawana.
The
set-up at the school does not allow anyone to throw litter on the ground
because of the number of bins available.
"We
have put a lot of bins around the school and no one has to walk a distance to
throw litter. Wherever you are, you have to find a bin. They are clearly-labeled
and no one can miss them," said Mawana.
The
bins at St Anthony's Musiso High School are made from not so sophisticated
material that can be found easily and affordably.
In
2016, the school was EMA debate champions for Masvingo province in the category
which supported prosecution of littering offences.
EMA
has for a long time advocated for institutions to improve the availability of
bins in their surroundings as a way of improving cleanliness and recycling
opportunities.