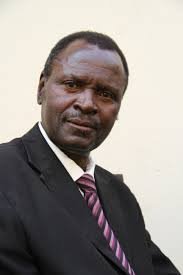 Lamson Matavire
Cephas Shava


MWENEZI – People in the district are mourning the death of former Zanu PF Mwenezi West Member of Parliament (MP), Lamson Matavire who died on May 01 at Masvingo Provincial Hospital.
Matavire, who was 73 years of age and hailed from Bhagadhi village under Chief Maranda, died from the effects of a stroke that he suffered a few days before.
He left behind his wife and several children.
In a telephone interview Agness Matavire, who is daughter to Matavire's younger brother, told TellZim News that the family was devastated by the loss.
"As a family, we are deeply saddened by this loss. Our father was first admitted at Neshuro District Hospital after suffering a stroke. He was referred to Masvingo Provincial Hospital where he died yesterday," said Matavire.
Although burial arrangements were yet to be concluded by the time of going to print, the late Matavire was expected to be laid to rest at his rural home.
Matavire was Zanu PF legislator for Mwenezi West from 2013 to 2018. His bid for re-election last year hit a brick wall after he lost the party's primary elections to current Zanu PF MP Priscilla Zindari Moyo.