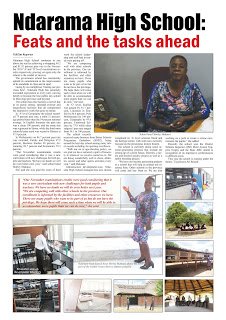 TellZim Reporter
Ndarama High School continues to rise above the rest by achieving a whopping 94.2 and 81.92 percent pass rate in the November 2018 'A' and 'O' level examinations results respectively, proving yet again why the school is the citadel of success.
The government school has consistently upheld its commitment to the improvement of its standards in class and in sport.
Going by its catchphrase 'beating our previous best', Ndarama High has genuinely exceeded expectation at every turn, moving boldly to become the best public day school in Masvingo province and beyond.
The school has also become a marvel due to its scenic setting, splendid exterior and magnificent facilities that all complement the impressive work that goes on inside.
In 'A' level Geography the school recorded 75 percent pass rate, a solid 21 percentage points better than the 54 percent national average. In English literature the pass rate was a clean 100 percent, and the same feat was registered in Shona, while the third most colourful pass mark was record in History at 97.9 percent.
In Mathematics an 86.7 percent pass rate was recorded, Family and Religious 97.2 percent, Business Studies 98 percent, Accounting 89.7 percent and Economics 78.3 percent.
"Our November examinations results were good considering that it was a new curriculum with new challenges for both pupils and teachers. We have no doubt we will do even better next year," said school head Shirley Makausi.
She said she was glad the years of hard work the school leadership and staff had invested were paying off.
"We are competing well with other schools in the province. Our enrollment is informed by the facilities and other resources we have. There are many pupils who want to be part of us but do not have the privilege. We hope there will come such a time when we will be able to accommodate more pupils than we can do now," she said.
At 'O' level, English was passed by 81.1 percent, Literature in English by 84.4 percent, Pure Mathematics by 100 percent, Geography by 95.6 percent, Combined Science by 75.8 while other subjects' pass rate ranged from 54.1 to 100 percent.
The school recently received many honours from Better Schools Programme Zimbabwe (BSPZ), being named the best day school among many other awards including for sporting excellence.
"With our no to age-cheating policy, we are glad we have nurtured a spirit of honestly in whatever we involve ourselves in. We are doing wonderfully well in chess, athletics, soccer and other sports activities every year," said Makausi.
Infrastructure development-wise, Ndarama High School managed has now almost completed its 'A' level sciences block and the heritage centre, with work now currently focused on the prestigious lecture theatre.
The school is currently doing some income-generating projects that include the setting-up of a green house, fisheries, a layers and broilers poultry project as well as a rabbit breeding project.
"We have our income generating projects as a school that will help us enlarge our resource base. Other schools in the province will come and buy from us. We are also working on a park to create a serene environment for pupils," she added.
Recently the school won the District Schools Inspector (DSI) Merit Award, Toppers Trophy and the Banc ABC shield in recognition of its impressive performances in different areas.
This year the school is running under the theme, 'Excellence All-Round'.