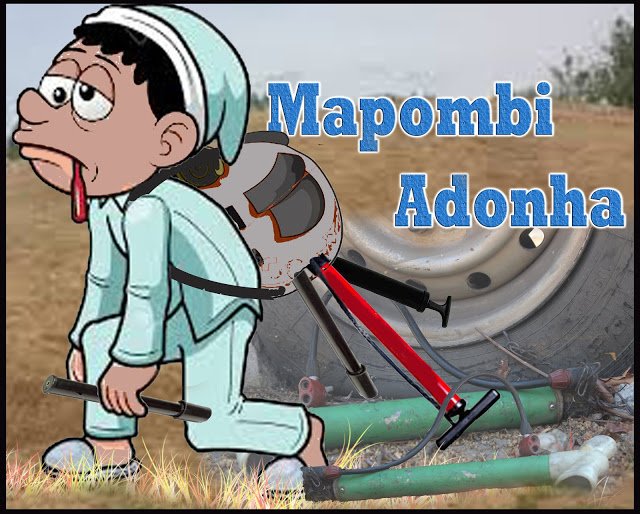 Mapombi now understands why
things are not going on well in some of these government offices; it's because
they are manned by incompetent officials, and one such example is Machako – a
director in the office of our good Minister of State for Masvingo Provincial
Affairs. They guy is very incompetent; Mapombi can confidently tell you guys.
In fact his red eyes made Mapombi suspect kuti ndoumwe wevamwe vanoenda kubasa
vakarohwa nembanje chete.
Mapombi heard her bosses
complaining about this pint-sized guy saying he knows nothing; ndokuzonzwazve
nemamwe maCdes in the media industry crying over Mchako's conduct. His latest
blundering was when minister Chadzamira recently delivered a press statement on
the preparations for the national clean-up campaign which was scheduled for
yesterday. Guess what Machako did – he barred journalists from asking questions
or seeking clarity. Kkkkkk the guy is not so intelligent I tell you and I don't
know why he is a director in that office when he misdirects the minister like
that. What was the purpose of inviting the media in the first place when he
knew that he would not allow any questions or requests for clarifications? I am
sure Machako was desperate to cover up fearing that his boss would be asked
tough questions as we all know that there is very little to write home about
Zanu PF since they controversially won the elections this year. In fact they
did not win the elections but they were declared winners by the Malaba-led
bench – with how many votes – only God knows.
Mapombi will not waste much time
talking about this useless Machako pamwe anenge akatorohwa zvake nembanje
because makambomuonepi munhu wekuti chero na7am maziso anenge atotsvuka kuti
piriviri. But tsika yako uirege iwe chimudhara chipfupi – why can't you allow vana
Irimayi avo who work with the media every day to run the show? Kuda kunzi mungona
here nhai kkkkkkkkkkk nhamo.
Anyway, last week mother Zimbabwe
was in the province – I mean the First Lady. Yes; she is the first lady and
Mapombi has no doubt about that; zveavo vanoda kuwanza mashoko kuti heee she
was small-house what what ini handizvizive izvozvo. All I know is she is the
First Lady.
But can someone tell me; is it a
pre-requisite that our First Ladies vanofanira kungozhangandira or it's just a
bad precedence which was left by our learned former First Lady? Or is it in
style for a First Lady kuti angoita speed imwe iya iya? I am serious ndoda
kutozivawo.
Can you imagine our First Lady
spent the whole day at Helen McGhie Primary School doing nothing but kugara
zvavo vachiita ngano kuvana vechikoro…. The whole day ngano dzichitsva apa Dead
BC camera ichitora mashura iwayo. And guess what; Auxillia was among the top
stories achiita ngano pachikoro ipapo paHelen McGhie hahahaha kumwa kuda camera
kwacho munozokunyanya Amai. I felt sorry for Chadzamira who was made to sit
down parukukwe ngano dzichitsva kkkkkkkk imagine the whole day murume mukuru
akati tekeshe parukukwe kkkkkkk.
But for those who care to
remember they will agree with Mapombi that this is how our former First Lady
started achingobuda ariko kuDanhiko every day isu vana Mapombi tikazvireva kuti
mukadzi ava kuenderera uyo vanhu veZanu vakatiitisa nharo.
People are starving and the
economic crisis is getting worse every day but a whole First Lady kutouya hake
kuzoswerotamba achiita ngano wasting government resources like that. All those
CIOs and government officials being paid for nothing. We want a mother who is
reasonable – who can address bread and butter issues not wasting resources
kuuya kuzoita ngano kuno. Hamunyare makaita seiko?
I think ED, his wife and
government yake are just clueless. They don't know anything about solving the
economic crisis. In fact, that guy called Mthuli hahahahahaha mutuvi chaiwo
uya. For those who know mutuvi they will totally agree with me.
Mapombi is always a gentleman so
ndinofira kureva zvangu. The challenge that we have is that ED and his comrades
are capitalists and the challenge with capitalists they only think about how
they can fatten their pockets and nothing else. Mutuvi's policies are clear for
anyone to notice that tiri kutongwa nemaCapitalists.
Capitalists don't have people at
heart – all they want is to make profit; and for that reason a two percent tax
was imposed on innocent citizens so that vanoita mari havo. Mthuli has imposed
a number of policies which will negatively affect citizens again so that they
can make money – that is exactly the behavior of capitalists. But one thing that
Mapombi knows is chisingapere chinoshura; who imagined Mugabe would go that
way?
But mukati murume unonzi Jorum
Gumbo dzakanyatsoti kwesere? This is a genuine question guys because Mapombi is
really confused and does not understand this not-so-intelligent minister. Gumbo
has been on record saying Zim has enough fuel but many citizens are asking saka
iri kupi fuel yacho if we have enough?
We see long winding queues in
town every day but a whole minister thinks he can fool the nation by lying that
we have enough fuel. Kkkkk Mr Minister wake up; we do not have enough fuel in
Zim please. Stop lying! Maybe you want to portray to the international
community an all-is-well smokescreen in Zimbabwe. Of course all is well in
Zimbabwe but we do not have enough fuel.
I think corruption inovhiringidza
urozvi chete ini. I now strongly believe that because some of the things that
are said by these corrupt government officials unotosara uchizvibvunza kuti
baba ava dzakakwakana here.
Anyway, it's almost lunch time
let me go ndindokanga zvangu maputi angu for lunch. I don't want to imagine
what I will eat on Christmas Day and New Year. At least I will manage to have
maputi angu hangu and of course rotten bananas. Mapombi strongly believes that
things could have been different if Mphoko was still the Vice President because
by now all women would have received day-old chicks and incubators tichitoziva
kuti paholiday tichadya nyama yehuku. With these VPs we now have ummm only God
knows. Mboko imboko!