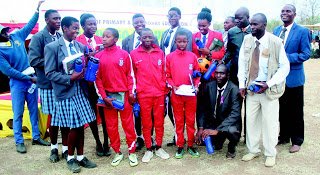 The Pamushana team pases for a picture at the awards ceremony
Pamushana High
School last week dominated the Sports category of the FBC Bank Masvingo
Provincial Merit Awards ceremony held at Rutenga Primary School in Mwenezi.
Pamushana won in
the under 17 Stella Netball, under 20 National Association for Secondary School
Heads (NASH) football and under 15 boys Copa Coca Cola football categories.
The school's
football coaches Simbarashe Mlambo and Bernard Matenga were named best coaches in
the under 20 and 15 boys football categories respectively.
In athletics, Pamushana
High School scooped six awards, with one pupil Mary Mashoko being honoured for
winning a gold medal in the 4x100m in the under 16 girls category while Kuzivakwashe
Mugwazi won an award in the under 16 boys category of the same discipline.
Claris Kwaramba won
in the under 21 girls in 100 and 200m category and medley.
Pamushana 'O'
level teachers also won Best Teacher awards in Woodwork where 21As and 4Bs were
produced, Agriculture with 42As, Commerce with 60As, 40Bs and 10Cs as well as
in Principles of Accounts with 30As, 27Bs and 28Cs.
'A' level teachers
were aslo named best teachers in Divinity with 12As, 16Bs and 1c; Economics
with 7As, 20Bs and 7Cs; Mathematics with 49As, 4Bs and 3Cs; History with 21As
and 2Bs as well as in Accounting with 15As, 6Bs and 5Cs.