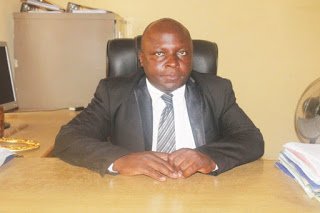 Adv Phillip Shumba Hubert Fidze


… as quest to bring back topflight football continues


Clayton Shereni
Two Masvingo based Eastern Region Division One teams Masvingo United Football Club (fc) and Masvingo Pirates have amicably resolved to put an end to the Masvingo derby and merge into one team as they target to bring back the long lost glory of premiership action to Mucheke Stadium.
The country's oldest city has been without topflight league action for over seven years with its last representative being Masvingo United in 2011.
On Tuesday, February 26, 2019, the club held a press conference at Charles Austin where Advocate Phillip Shumba was named the team's Chief Executive Officer (CEO), Masvingo City Mayor Collen Maboke is the club's Patron while former Mayor Hubert Fidze was named Chairman.
Addressing journalists at the press conference, Fidze said the team will use the name Masvingo United and called upon football fans to embrace the bold move with excitement.
"The new club will use the name Masvingo United Football Club (FC). This is breaking news indeed and which should be received with all the acceptance and excitement it deserves," said Fidze.
The two teams resolved to name the club Masvingo United after considering the club as the most successful football club to emerge from Masvingo.
Lawyer Owen Mafa is the club's secretary, Godfrey Mtimba was also unveiled as club spokesperson and City of Masvingo deputy housing director, Simbarashe Mandishona was named vice secretary.
The team's technical team is expected to be unveiled by March 4 while player registration is still in progress and will end a week later on March 13, 2019.
Renowned football commentator and pundit Charles Mabika applauded both teams for merging into one team a move which he said will definitely bring back premiership football to Masvingo.
"The merging of the teams is good for the province and definitely it can bring back premiership action to Masvingo'" said Mabika.
Una Una is likely to receive what could be a major financial boost ahead of the 2019 season with Masvingo City Council already on record saying they are making consultations to whether fully or partially bankroll a local football club.
Inclusion of N. Richards Group Director, Andrew Chekani as the club's committee member is another major boost to the club as there are growing calls for the corporate world to fund a local football team.
Blending of the two teams is expected to produce good results in the upcoming season since both Dzinochekwa Baba as Pirates is affectionately known and United have vast young and experienced players in their books.