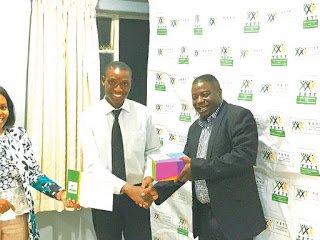 TellZim News news editor Moses Ziyambi (centre) receives the award from Voluntary Media Council of Zimbabwe (VMCZ) executive director Loughty Dube. partly obscured is YETT programmes officer Samantha Dube
TellZim Reporter
HARARE – The work being done by TellZim News, the fastest growing privately-owned community newspaper in the southern region of the country continue to be recognised, the latest honour being an award from the Youth Empowerment and Transformation Trust (YETT).
The organisation hosted its Youth Voice Journalist Honours in Harare last week where TellZim News was awarded a certificate for being Best Online Publication.
The award was in recognition of youthful content and articles published online.
Besides publishing a weekly newspaper every Thursday, TellZim News runs a vibrant website (www.tellzim.com) where news stories are posted then shared on all the three most popular social media platforms; Facebook, WhatsApp and Twitter.
Speaking at the event, YETT programmes officer – grants, Samantha Moyo said all the winners had been selected through a rigourous process that involved monitoring of content produced by individual journalists as well as by respective media houses throughout the year.
"We look at commitment and consistency. It is all about rewarding the media's dedication to youth affairs in our country. We recognise the central role that the media play in relaying messages that champion the welfare of the youth.
"We want the media to be our voice; to be our ears and eyes by which the job at hand can be successfully done," said Moyo.
She also encouraged journalists to share their relevant articles that can be used to advance the interests of young people
A total of three awards went to Masvingo province; with Hazvinei Mwanaka, a freelance journalist being named Best Female Journalist. Nyasha Musambasi of The Mirror was named Best Female Community Journalist.
The Youth Voice honours journalists who creatively, consistently express and recognise the youth as positive drivers of social change in their communities in such areas as governance and peace building, HIV and Aids, sexual and reproductive health, entrepreneurship, current trends on government initiatives on youth development, young people's own initiatives on climate change and the environment, ICTs and social innovation as well as young women development.
Earlier this year, TellZim news emerged runner-up in the Media Support of the Year Category of the Midlands Chamber of Small to Medium Enterprises. At the close of the 2017 Masvingo Agricultural Show, the Masvingo Provincial Show Society awarded the newspaper a certificate in recognition of outstanding performance in the Commercial Small-Medium Enterprises category.