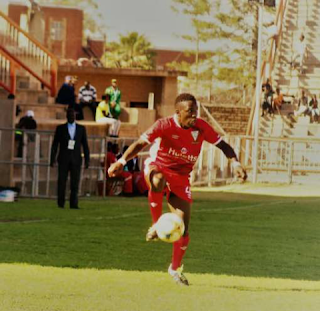 BULAWAYO –
Triangle United
Football Club's inspiring opening match at the Confederation of African
Football (CAF) Total Confederation Cup preliminary game against Burundi's
Rukinzo Football Club in Barbourfields Stadium last weekend has injected fresh
optimism that the Chiredzi-based team will sail past the preliminary round.
Triangle FC, affectionately
known as Sugar Sugar Boys, humbled the Burundi side 5-0 in the opening match.
The club's strike force,
which was recently boosted with the signing of Gerald Bero from Nichrut FC,
Timothy January from Mutare City and Allan Tavarwisa from Chapungu, was
probably in its best form ever.

They managed to give Rukinzo FC goalkeeper Bosco Bankagakura a torrid time at
the nets, with Tavarwisa scoring the opening goal with a brace in the 7th
minute.
The second goal came from Captain
Ralph Kaondera after skillfully managing a cross from Bero's cross.
Many fans were jubilant at
the Sugar Sugar Boys' exploits, with others however noting that much more could
have been achieved had it not been for the team's weaker midfield which Rukinzo
FC's Clemence Toto dribbled past without much difficulty.
Soon after halftime, January
scored the fourth goal after capitalising from another impressive cross from
Bero.
Before being substituted by
Tino Nyasha Chintuli in the 90th minute, Tavarwisa gave Chintuli an opportunity
to net the fifth goal through a corner kick from Russell Madamombe who had
substituted Bero in the 66th minute.
Rukinzo FC head coach,
Ramadhani Maulidi acknowledged that Sugar Sugar Boys were the better side,
saying he had learnt a lot of hard lessons from the match.
"There are three
possible results in a football match which are a win, draw and lose. Today we
lost because Triangle deserved a win. We will wait for another day as we are
still new. Our team just came from Division One and sailed through to the CAF
confederations preliminary round," said Maulidi.
Triangle FC head coach,
Taurai Mangwiro said he was pleased by the performance which he described as a
new standard which the club must maintain.
"It was a comfortable
win but we must not relax for we know that playing the second leg in Burundi
will be totally different. Anything less than a convincing performance will
give them hope," said Mangwiro.