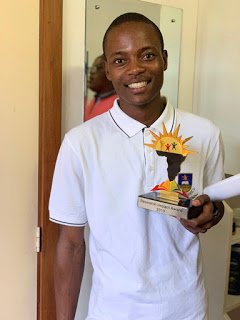 Musapingura
…ground-breaking research to be a game changer in mineral
processing
CHIPINGE –
A year 21-year-old University of
Zimbabwe (UZ) undergraduate final-year student from Musapingura village has
shone at the tertiary institution after receiving multiple successive awards as
the best student of the year 2019.
Vision Musapingura, who is studying Metallurgical Engineering
with the university's School of Earth and Mineral Sciences in the Faculty of
Engineering broke the record by becoming the only undergraduate student to come
first in multiple disciplines.
He won the Research Impact Award 2019 from the African
Student Association (ASA) after showcasing the best Research Project in
Zimbabwe.
Apart from that, Musapingura scooped the Best Orally
Presented Innovative Project at the 2019 University of Zimbabwe Research Week held
on 05 – 10 August, as well as the most Innovative Undergraduate Project in the
Engineering Department.
The mineral processing researcher has developed a new method
of pre-treating and processing double refractory gold ores as well as
establishing a way of reducing the hardness of ores in general, whether gold ore,
platinum ore or chromium ore. He has also managed to discover and characterise
the carbon used in gold mines for absorption.
The young star told TellZim News that he put a lot of effort
in his research and was pleased that the result had promised to be a great
problem-solver in the mining industry.
"Many good mines have discovered double refractory gold
ores that are not amenable to the conventional gold processing method but my
newly-designed method can process this ore thereby increasing the company's
production and subsequently the amount of gold delivered to Zimbabwe's Gold
Bank, Fidelity Gold Refineries and Printers.
"My characterisation of carbon is also important in ensuring
that pure gold bullion is delivered to Fidelity. Moreover, the reduction in
hardness of ore is a good way of reducing expenses to the company as well as
conserving electricity," said Musapingura.
He said his innovations were an effort to contribute to the
transformation of the country through locally-generated scientific solutions.
"I want my contribution to help the country transform into an
upper-middle income economy by year 2030 through maximisation of gold
production. My findings must become a real mining and metallurgical industrial
problem solver and I personally hope to see the Research Council of Zimbabwe,
SIRDIC and all innovation hubs at universities fully-capacitated to enhance our
researches towards development of mining in Zimbabwe," he said.
Musapingura went to Renco Mine Primary School, Gaza Government
Primary School and Mount Selinda High School which awarded him the best overall
student in the year 2013.