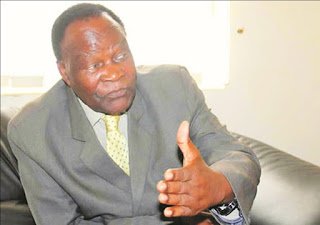 …Mangwana, Matuke, Makwarimba, Mhere on firing line
MASVINGO –
After President Robert Mugabe yesterday removed the kid gloves with which he has always treated his deputy Emmerson Mnangagwa by openly threatening that he can drop him for allegedly fanning factionalism in Masvingo and Midlands provinces, the Zanu PF Provincial Executive Committee (PEC) here has recommended the expulsion of all alleged Team Lacoste minions from the party.
Speaking at the meeting today, November 5, Zanu PF acting Masvingo provincial chairperson Amasa Nhenjana said the PEC has recommended the expulsion of all 'rotten apples that keep on undermining the President'.
"We have recommended to the higher authority the expulsion of Josaya Hungwe, Paul Mangwana, Ezra Chadzamira, Edmund Mhere, Clemence Makwarimba and Lovemore Matuke from the party.
"These people have sown the seeds of division in the province and have undermined the authority of the President. We cannot let these people lead us anymore and we want them gone.
"We want people who support the President as the one centre of power," said Nhenjana.
Nhenjana said he was tired of people who want to paint Masvingo as a problem province when in fact it is a few rogue elements that need to be chucked out.
"Masvingo is an independent province from the Midlands and we are not influenced in any way. The people in Midlands do things their way and we do ours our way. Masvingo stands by the President," said Nhenjana.
President Mugabe and his wife Grace have been known for siding with the Generation 40 (G40) faction and as it stands, their faction has taken control of all the provinces ahead of the December congress.
Masvingo has been regarded as a bedrock for the beleaguered Mnangagwa but tables turned after Saviour Kasukuwere suspended provincial chairperson and strong Mnangagwa ally Chadzamira who is however fighting teeth and nail to nullify his suspension.
The PEC was also attended by politburo member Daniel Shumba and newly-appointed Foreign Affairs minister Walter Mzembi.
Shumba said as a senior politburo member, he will help lead in making sure that the recommendations of Masvingo PEC are heard.
"As the senior member, it is my job to make sure that I provide guidance to the province so that we all rally behind the President," said Shumba.
Team Lacoste members in the province stand accused of sending a Chibi High School busload to boo Grace at the President's penultimate youth interface rally at White City Stadium in Bulawayo yesterday.
The PEC said it will launch an inquiry on all the people who went to Bulawayo to undermine the President and bring them to book.
It is alleged that the boors were led by Charles Munganasa, a well-known Mnangagwa loyalist.
top news