… says he is quitting politics
By Tell Reporter
Former Zanu PF Member of Parliament (MP) for Chivi North constituency Tranos Huruva has opened up for the first time after being suspended from the party saying Zanu PF is now left with fraudsters and crooks.
Huruva who is also former Provincial political commissar for Masvingo province said he is not going to lose sleep over his suspension because the party is now left with people without conscience.
"All genuine people are being persecuted and harassed by thugs and fraudsters. I am now calling it a day in terms of politics because Zanu PF is no longer the party that I used to know.
"I have worked tirelessly for Zanu PF only to be chased as a reward. I think they are not grateful yet they know the good work which I did for the party," said Huruva.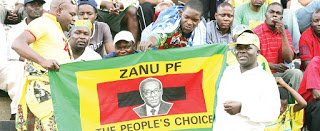 Huruva said he started to discover that Zanu PF was full of people without conscience when no one turned up to see him after he got involved in a road accident a few years ago.
"No one came to see me and when I recovered, I continued to work for the party and now they are suspending us. Thus rubbish…," fumed Huruva who is now running his small businesses around Chivi.
"In fact suspending me came as a blessing in disguise because now I can rest," added Huruva.
Huruva's remarks came at a time when Mwenezi East MP Kudakwashe Bhasikiti has also caused stir in Parliament accusing all Zanu PF officials of being corrupt. Political