Opinion by Golden Maunganidze
We have been talking about political developments in Zanu PF and MDC-T for a couple of weeks now. Some people were however saying that the chaos is our revolutionary party is a calculated move by veteran politicians in that party to divert our attention from bread, butter and jam issues!
I almost bought that idea but as I see it ladies and gentlemen, we have reached a climax in terms of divisions within the party. Some people are saying that we have interesting times ahead…referring to developments likely to take place just before and after Zanu PF congress pencilled for next month.
As I see it ladies and gentlemen, if indeed Zanu PF was trying to divert us from real challenges affecting us on daily basis, then someone should remind them that they are overdoing it. In fact all politicians in the revolutionary party certainly owe the nation an apology. Before or after the congress, sooner or later, I think that at some point, the noble minds in Zanu PF should come out and say sorry to the nation. When people voted for you last year, they never thought it would turn up to be this chaotic. However, as I see it nhambetambe inoregwa ichanaka, this is the time to sit down and see how you can convince the nation that you have people at heart otherwise since you were voted in to power, all you managed to show us is your selfishness –uku kurovana kuti mudye moga here nhai veduwe?
This reminds me of our own Garikai Sithole who tried to launch his political party here in Masvingo early this year. Sithole has been seen as a political joke by many and as a result his political party Zimbabwe Empowerment Movement (ZEM) might struggle to attract even two people to a rally but I like Sithole for one thing – at least he can open his mouth and tell the nation what he thinks. Get me right, I am not saying you just have to open your mouth and say something kungowawata for nothing. No. I am talking about people who can say a fact at least once in their life time. For those who do not know Sithole or Gari as his is affectionately known in his circles, he is an ex-soldier who claims to be the late hero Edison Sithole's son. He sued Ian Smith 10 years ago. His political party's motto is Ngatidye tose (Lets all benefit from national resources) He goes on to say that takarwa hondo tikahwina todyei? These are critical questions that are being ignored. I am not campaigning for this man and for a record, I am not interested in becoming anyone's campaigning manager!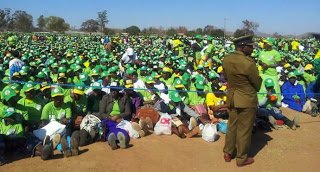 If you closely follow events taking place in our revolutionary party, surely you can say Sithole is justified. Someone, I mean mumwewo munhu said "If you show me a politician who is not corrupt in Zimbabwe, I will show you a virgin prostitute". I laughed my lungs out but upon thinking about the statement, I realised that as a nation we really have to rethink the way we play the game of politics. Some people maybe for reasons best known to them believe that they are clever than the whole country because they are politicians.
I did not want to talk about politics and sad developments in this country today but you know sometimes you are really forced to talk about things which are affecting every Tom, Dick and Marry.
Apart from the drama we are witnessing, there are other various issues that need our immediate attention. Last week I talked about the need for everyone in Masvingo to participate in budget formulation. However, I am shocked to discover that still people are not interested in attending these meetings. I am referring to a story carried by
tellzim.com
on Monday which highlighted that some meetings by the council were attracting less than seven people…
ma1 chaiwo
. We are talking of this very important exercise and still people dont want to participate,
saka musazochema kana conzuru yoita zvayajaira
. Dont plead with me to elaborate because your guess is as 'bad' as mine kkkk!!
Let me end here for now lest I be accused of yep yep or speaking too much or yep yepping if you like!!!!
Golden Maunganidze is a journalist and a media trainer. He writes in his own capacity. You can send feedback or comments to goldenmaunganidze37@gmail.com