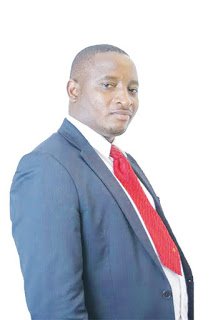 …bay for Kurauone, Mberikunashe blood
Staff Reporter


MASVINGO – Zanu PF youths on Monday (January 28) stormed the local authority' offices during a full council meeting protesting against Ward 4 councillor Gofrey Kurauone and Ward 5 councillor Daniel Mberikunashe whom they accuse of stealing council money.
In an interesting turn of events, the protesters who were blocked by armed anti-riot police from disrupting council business celebrated the arrival of the mayor Collen Maboke despite the fact that he belonged to the opposition political party and he was late for the meeting.
Protesters showered Maboke with praises while others ululated as the mayor made his way into council chambers. Some demanded to be addressed by Maboke but he told them that he needed to attend the meeting first.
The incident raised eyebrows from onlookers who were astonished as to why Zanu PF members who were suspected to have been hired by ward 10 councillor Sengerai Manyanga would cheer at the MDC mayor while they protest against his fellow MDC councillors.
However, Maboke downplayed the issue saying he was caught by surprise since he was not aware of what was happening.
"They shouted my name but I was not aware of what was happening. When I inquired, I was told that the people were protesting against my fellow councillors," said Maboke.
Despite the fact that there were protesters outside, the issue was never discussed in the chambers. The meeting was chaired by deputy mayor Councillor Wellington Mahwende (Zanu PF) since the mayor arrived late forcing him to participate from the gallery while his deputy was running the show.
Without noticing the anomaly, Maboke said he enjoyed the last full council meeting since he was participating from the gallery like any other councillor as if to suggest that he was handing over the reigns to his deputy who was chairing.
Kurauone and Mberikunashe are being accused of withdrawing $800 from council sometime before 2018 elections on the understanding that they would go and attend a workshop in Kadoma. However, their car broke down along the way and they did not attend the workshop.
Masvingo City Town Clerk said the issue was being handled by the Ministry of Local Government.
"The two were supposed to attend a workshop in Kadoma and they were using Cllr Kurauone's car, however, they did not attend the workshop because their car broke down along the way. They phoned me advising that they had to use use their allowance so that their car would be diagonised. I understand that since then the car has never been back on the road. However, some people feel that they must return the money. The issue is being handled by the Ministry," said Gusha.