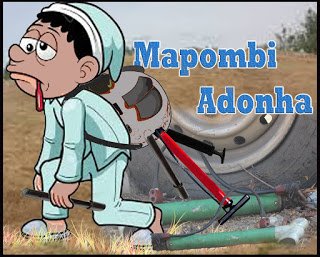 Are we sure this country has leaders who have people
at heart. I hear our beloved President ED wakes up early in the morning and is
in office by 07:30 and often times leaves office late but Mapombi wonders what
the man will be doing because life for an ordinary Zimbabwean is getting
difficult with each sunrise.
I heard that ED has appointed Mr Bin as Air Zimbabwe
board chair kkk. Somebody should have advised the President kuti AirZim is
under administration and there is no board there, it was dissolved long back. I
do not know who is advising the President these days but pana Bin Man mukuru
makabika mbodza. Tuku akaimba wani kuti Mapakura mbodza, kkk mbwezhu chairo.
What magic will Mr Bin he pull from his sleeve to revive an airline which is
now officially the world's most unreliable.
Although I don't like Chinamasa, I must accept that he
was a better Finance minister than chimuchinda chekutiunzira austerity measures
which are not yielding any results. Mutuvi should remove those glasses because
I believe they are giving him an optical illusion on what is happening.
I would like to advise Mutuvi that his austerity
measures are targeting the wrong people. Why should a teacher wekwaMuchekayaora
keep taking pain for the rich and powerful to enjoy while the country burns?
Ini Mapombi ndiri kutoshinga kudya mabanana akaora kuno kuChitima for our
President to hire those luxurious planes to go on his begging trips where he
comes empty handed.
I like ED, make no mistake about it, but he is
surrounded by criminals who want to see him fail. Imagine ini Mapombi ndouya
kwamuri ndakapfeka a nice tailor made suit and driving a yellow Lamborghini ndichitsvaga
rubatsiro? Would you take me seriously? Iyo imbori yaniko Lamborghini iya?
Hanzi ndeye mupfana weku Nembudziya. Ndikunzwei futi muchiwanzira Gokwe kkkk.
But varume I need you to balance me here real quickly,
kamuchinda kaya kanonzi keku Gokwe kakawanepi mari yekutenga that supercar and
I heard hapana kana duty rakabhadharwa. Zimra muriko here uko? Muri kutii nhai
vateresi?. A Lamborghini cost 200 000 real American dollars not bond notes is
allowed into the country duty free yet muri kunetsa madzimai anohodha mabhero
kuJoni.
Iye mufana Mayor (not Maboke) anomboita nezveiko
chinomupa mazimari akadaro? I heard Themba achipopota about the issue and I am
very proud of him. Hanzi hee rebate hee what what but ini Mapombi ndikanzi
ndawana mari kuhope ndikanotenga kaFunCargo kanoita US$2 000 unoona Zimra
ichitoda duty ipapo. This is a rotten system and we are cursed for real.
A country without forex but unoona munhu achikwanisa
kunotenga mota inodhura kudaro akaiwanepi forex yacho. Then Mayor comes out
bragging saying the car costs double the price being speculated and he told
Themba Parliament that he should not be jealous. And guess what, the opposition
MDC parliamentarians were all seated there like zombies. That Parliament is
truly a waste of time no wonder why a group of baboons is called a Parliament.
That Lamborghini ladies and gentlemen is one of a kind
and you can actually count them on the African continent. I wonder why the
transaction for that car was not affected by the so called sanctions. Varume
vanotinyepera ava. They are sucking the life blood out of us and we are living
by God's grace and we are taking the pain for them. Enough with the austerity
measures because we cannot keep on sponsoring the executive's lavish
lifestyles.
What is more painful is that people are now fighting
to join the system than to cleanse it. Maybe it has dawned to many that there
is no strategy in the opposition to remove Zanu PF from power and the
opposition has become so comfortable in remaining just that. The only hope is
that ED goes the same way he came but the man is clever, he is a calculative
man and I see him winning or rigging again in 2023 and he will get away with
it.
I am afraid to say anything bad about my beloved
President ED because many people who have taken a stand are either dead,
missing or sleeping with one eye open. Mapombi would like to send prayers to
one brave man Chiwenga (not VP). This man used the cross to challenge the
powerful but is now battling for his life right now. Zvakaoma zvekutaurisa izvo.
Mukanya vakanga vazviona pavakati Jojo siya zvenyika. Asi ka zvakanzi naMwari
shandisai matarenda enyu, zvino kana Talent akanyarara zvozotaurwa nani?
Akasashandisa rake tarenda anobatwa opotserwa kunze kuruma uko.
I hope both the Chiwengas will be well soon so that
they can continue with their work. We need them to keep challenging the man at
the top. But they must remember tThe crocodile rules the waters and you have to
tread carefully nekuti Zanu chiwororo. Rest in Power Morgan Tsvangirai but
pamakatisiira ndipapo, tichingori nayo Zanu.
By the way ndine urombo VaRugeje! Ko kwahi maita Seiko
nhai vedu? Ko inga makashanda wani maerection tikahwina. Nyarai zvenyu Cde,
tiri kudzora tsvimbo manje manje. Chine vene vacho chinhu ichi. Hachingaiti
chevanhu veGokwe voga zve. Kuti umwe Lamborghini, umwe commissariat. Ko isu
todhlepi wo isu?
Anyway my time is up. Regai ndidzokere kumusika kwangu
ndinokanga zvangu maputi angu. Iwo akati anonakei muchando muno kudai.
But before I go let me ask, how does Khaya Moyo
survive just like that? The man has more lives than a cat kkk. He announced the
ouster of Mnangagwa, the ouster of Mugabe, the return of Mnangagwa and still
announces the fate of many. Asi achaenda hake ndozviziva. Kana Mphoko akaenda
iye ndiye anosvikepi?