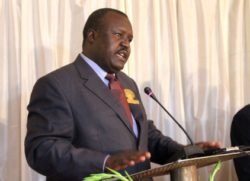 …attacks West for
'ill-treating' African refugees
TellZim
Reporter
Vice president of the
Pan-African Parliament (PAP), Fortune Charumbira has bemoaned the plight of
African refugees seeking sanctuary in the Europe Union (EU) as modern-day
slavery and accused the bloc of treating the refugees who make it to its shores
as animals.
Speaking at the 'We the
People: Peace in the Horn' conference in Brussels recently, Charumbira said during
the course of the event, he received shocking firsthand testimony of the
inhuman experiences that refugees suffer on their way to Europe and in their
quest to integrate.
"I have listened to many
refugees; it has been shocking to hear their stories. Their testimonies reveal
modern-day slavery in Africa. Heart-breaking and horrific stories that I have
been hearing here are totally a reflection of the violation of human rights of
highest order. We need to do all in our power to stop slavery on the African
continent," said Charumbira.
He accused EU of blatant
violation of the rights of the mostly Eritrean refugees, saying the bloc was
abetting their suffering.
"We were told that often,
Europe's invisible hand is ever present in funding Coastal Guards who
discriminately harass our brothers and sisters at borders. Another shocking
revelation is that of the whole cartel and network of very powerful rich people
who are involved in the human trafficking trade in Europe and in Africa.
"I would like to think
that in the manner that EU preaches the respect for human rights as enshrined
in the 1948 Universal Declaration of Human Rights (UDHR), their voices must be
louder in calling for the end of ill-treatment of migrants. Europe which
projects itself as champion and policemen of human rights, risks losing dignity
and integrity if they continue to respect the free movement of goods and
commodities across continents and also respecting the rights of wildlife on the
African continent but at same time contributing to the inhuman and degrading
treatment of African migrants," Charumbira said.
He said Europe should
take more responsibility for the crisis which he said had its roots in slavery
and colonial dislocations.
"Today, Africans are
being seen as nuisance in the West with many of brothers and sisters perishing
as they try to run away from their countries…. the problems that we have in
Africa at large and in the horn in particular, it's a creation of the
Westerners who decided to sit somewhere in Berlin in 1884 and divided our
motherland. The rest that followed only worked to brew chaos in Africa.
"The Europeans themselves
were the first to be illegal migrants in Africa and they did it with clear
conscience but today, they are treating our brothers and sisters like animals,"
Charumbira said.
He also took a
thinly-veiled attack against repressive governance systems and security
heavy-handedness in Eritrea.
"The widespread of use of
force, coercion and brutality to achieve political goals has remained indelibly
enmeshed in the Horn of Africa. Such use of violence to quell real or perceived
threats to national security has left deep scars among the communities in
Africa. There is apparent lack of open dialogue on the need to correct past and
on-going threats to peace resulting in the sustenance of both open and latent
strife among the citizens," Charumbira said.
He urged participants to
come up with a clear action plan for presentation to PAP and African heads of
state.
"As vice president of
PAP, I can assure you that we are going to compile all the sad stories that I
have heard and present them to our parliament so that this issue will be put on
the agenda on our next meeting session in February 2019," he said.