Tell Reporter
Bhasera villagers in Gutu are appealing to the government to help them in maintaining their road network.
Trees are already growing in the main highways and potholes have become a common feature in all roads.
Motorists who use the roads on daily basis said their lives were in danger because trees which are slowly becoming thick bushes are a major cause of road accidents.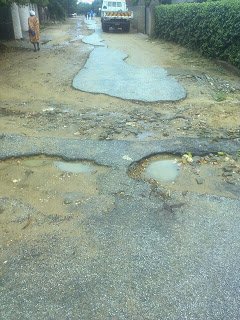 Above … State of most Zimbabwean roads
"The road side is now a bad site and it has become risky to travel along the road for stray cattle are likely to emerge anytime from those bushes. One can crash into stray animals unexpectedly," said one of the drivers.

Many who talked to this reporter shared the same sentiments saying there was need for the police to warn people of the need to exercise caution when driving along Gutu roads.
"There was a very fatal accident here last week and four people died on spot. We think that it's high time we have awareness campaigns from the police so that motorists would exercise extreme caution when using these roads," said Zivanai Mataruse.local