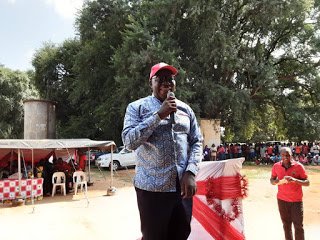 Biti speaks at the Tsvangirai Memorial Lecture in Nyanyadzi
…says 2008 was late veteran opposition leader's
greatest achievement
Felix
Matasva
MUTARE
– MDC vice
president Tendai Biti has praised former party president, the late Morgan
Tsvangirai as a champion of the struggle for democracy whose name will forever
be remembered.
Speaking during a Morgan Tsvangirai Memorial Lecture
in Nyanyadzi recently, Biti said Tsvangirai had done what many had deemed
unthinkable by defeating Robert Mugabe of Zanu PF in the first round of the
March 2008 elections.
"The 2008 elections were president Tsvangirai's
greatest achievement. He won resoundingly by over 70 percent and Mugabe
admitted to this fact.
"Mugabe
knew he had lost and wanted to hand over power but his henchman refused and had
to play with the figures so that Tsvangirai would not have the 50 percent plus
one vote majority needed to win the elections outright," said Biti.
The March 29, 2008 harmonised elections saw Tsvangirai
coming closer to taking over power after polling 47.87 percent against former
Zanu PF leader Robert Mugabe's 43.24 percent.
The
country was,
however, made to wait for more than five weeks by the Zimbabwe Electoral
Commission (Zec) which did not announce election results amid allegations that
the electoral body was cooking up results to rescue Mugabe by reducing
Tsvangirai's victory margin so that a run-off could be declared.
Biti said Tsvangirai agreed to the
June 27, 2008, election run-off though he knew he had won the first round but
had to pull out to save his supporters who were being killed by Zanu PF with
the help of the army and other security agencies.
"We all know what happened in June
of 2008 during the presidential run-off. President Tsvangirai agreed to the
run-off even though he knew he had won resoundingly.
"Zanu PF unleashed terror on our
people and many were killed while others were left with life-changing injuries.
Women were raped and babies were cut out from pregnant women. This was the
brutality unleashed on our people.
"Being a selfless leader, president
Tsvangirai had to pull out of the run-off to save his people and had to agree
to a Government of National Unity," said Biti.
MDC Manicaland secretary for
communications, David Panganai told TellZim News that the memorial lecture was
the starting point in MDC's efforts to establish a Morgan Richard Tsvangirai school
of ideology.
"The
role played by the late Morgan Tsvangirai in fighting for democracy in the
country is indelible. The party's resolution is to start a school of ideology
in his honour," said Panganai.