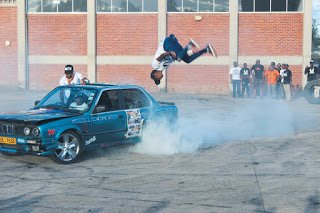 Itai Muzondo
Comparatively new form of entertainment in Masvingo called 'burnouts' took the city by storm last week as hordes of residents spared time to witness the burnout launch hosted by Liquids Bar International at CSC Depot in Masvingo.
The show which attracted Zimbabwe's top spinners; Ice, Gaza, Judah and Masvingo's 3rd District Crew left many tongue-tied as the daredevil drivers spun the wheels of their cars, while vehicles remained stationery, causing tyres to heat up and smoke due to friction.
Liquids Bar International manager Revai Tapambwa said he was happy with the people's response and promised more of such events in the near future.
"Our major mandate as Liquids Bar International is keeping people entertained and we are happier if the people are entertained peacefully. Masvingo's response to our burnout launch was overwhelming and we promise Masvingo that more burnouts and entertaining family shows are coming their way," Tapambwa said.
Burnout contests are judged on crowd response, with style and attitude being important aspects for consideration. Such contests are particularly popular in Australia but often occur in North America as well. Burnouts are also common in informal street racing, usually for show value.news
—
Tel : +263 39 262 401

He who said it can not be done must not disturb the one doing it!