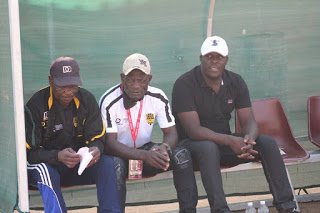 …Gem
Boys appoint him head coach
After producing what
could be Manica Diamonds FC's best run so far in the elite topflight league,
Gem Boys have reportedly opted to appoint Johannes 'Dutch Mentor' Johannes Nhumwa
as their substantive coach, TellZim has learnt.
Nhumwa, who was
Masomere's assistant and one of his most trusted lieutenants, seems to be
striking the right chords with a fair run in his five outings on the hot seat.
Manica have been looking
for a substantive coach in recent weeks to take over the reins, with a number
of high profile coaches like Lloyd Mutasa, Lloyd Chigowe and Kelvin Kaindu reportedly
expressing interest.
However, Nhumwa stood a better
chance considering that he has been familiar with the players at Manica since
the club's formation.
Nhumwa can also provide
an effective recipe to escape relegation and has been producing fair results
since assuming the caretaker role.
Contacted for comment,
Nhumwa confirmed the developments but said the deal was yet to be finalised as
he is yet to put pen on paper.
"I am still the coach and
still in charge and I am no longer interim now from our arrangement but we
haven't yet gone through our papers," said Nhumwa.
Nhumwa has claimed 10
points in five matches with three wins, one draw and one lose at the hands of
Caps Utd.
He takes over from Luke
Masomere whom he deputised since the formation of the club last season.
Masomere and Nhumwa made
history by getting promoted into PSL with some games to spare and without
losing a single match.
However, Masomere seems
to have found it hard to cope with the competition in the country's most
decorated league which is different from Division One action.
The two have worked
together a number of times with one of their most prominent assignments being
their PSL job with How Mine FC.
The Gem Boys will this
weekend face a stern test against third-placed Chicken Inn FC –

popularly known as Gamecocks – in Bulawayo
where Nhumwa hopes to continue pleasing his paymasters.