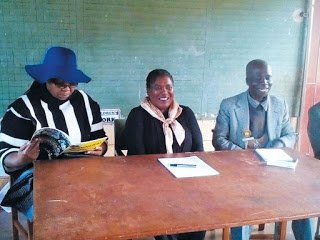 From left MP Irene Zindi, Chimene and Chief Mutasa at Tsvingwe primary school
Lloyd Shunje in Mutare
MUTARE – Minister of State for Manicaland Provincial Affairs Mandiitawepi Chimene has taken the blame and apologised on behalf of the Ministry of Mines over false stories of new diamond discoveries that had caused panic in Mutasa Rural District Council (RDC)'s Tsvingwe area.
Despite efforts by the Member of Parliament for Mutasa South Irene Zindi and Mutasa Rural District Council to rubbish the authenticity of the rumours, fears of possible arbitrary eviction engulfed people in the area, forcing Chimene to visit to Tsvingwe last week.
Tsvingwe Residents Association chairperson Weston Makoni expressed displeasure in the manner by which the Zimbabwe Consolidated Diamond Company (ZCDC) had initially handled the matter.
"We were not informed at first but they just came and said we should remain at home as they would visit, but they did not show up and they passed the same message for the second time and failed to come. We were not happy in this manner because no proper consultations were done to inform the local leadership," said Makoni.
Speaking during a briefing with the local leadership, Chimene said she was also disappointed with issue and apologised of behalf of the Ministry of Mines.
"I was also disappointed with this issue and engaged the ministry where I was told that there was nothing like that in Tsvingwe. I was told that it's rather an exercise that is being done nationwide by the ministry carrying out mineral explorations but that was not properly communicated to the people and local leadership.
"There was, for real, a disturbance which caused panic here and I have come to apologise on behalf of the Minister (Walter Chidhakwa) and the Permanent Secretary and assure you that there will be no displacements, so continue with your developments," said Chimene.
Reports of a whole new diamond find in the area as well as some areas in Nyanga caused immense consternation among the people many of whom still nurse fresh memories of what happened when the Marange diamonds were discovered some 10 years ago.