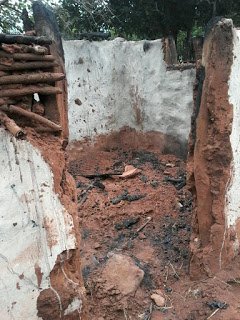 What remains of the burnt hut
Knowledge Mhlanga
CHIPINGE – A man from Sone village, Ward 17 in under Chief Musikavanhu shocked residents when he allegedly burnt down a neighbour's hut following a misunderstanding during an illicit beer drink.
The event happened on April 08, nearly killing an 18-months-old minor that was sleeping in the hut. Though no comment could be obtained from the police, the suspect in the arson attack is one Edmore Tarwa "Dyke" Maposa Mafondora whom many people described as a jail bird.
The burnt house belonged to Gift Kataza Manzungu who had been drinking an illicit brew known as nipper (sope) at a local shebeen when the suspect threatened to burn down his home.
Eye witnesses said Maposa had earlier been drinking beer at a memorial service when he then proceeded to Kumbula Complex where he found Manzungu at one of the shebeens.
Manzungu reportedly refused to share his beer with Maposa, leading to a heated exchange of harsh words.
Manzungu's mother, who was present when the house was burnt down, said she was in the other hut with her daughter-in-law and grandchildren when she heard her husband, who is lame, shouting from outside that Manzungu's hut was on fire.
She said she then saw the suspect escaping behind the burning house shouting provocative words against Mazungu.
"This is not the first house he burnt. We suspect he is the one who burnt another house over two years ago. I went to Chipinge Police Station and filed a report and a docket of the case was opened, but to my surprise it has been four days now and nothing has been done about it."
Manzungu himself told TellZim News he never suspected Maposa would make good his threat to burn down his house.
"He came to me and asked for a sip of my beer but I refused so he started to provoke me. He asked what I would do if I found my brother sleeping with my wife and he also threatened to rape my younger daughter and burn my hut.
"This is not the first time he has provoked me, he hates me and wishes me dead. I thank God that my wife and children were in the other house having dinner with my mother when our hut was burnt," said Manzungu.local