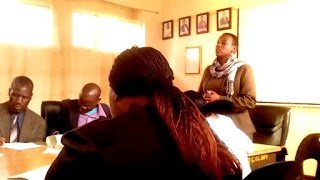 Chitambo makes a presentation at the consultative forum
Chipinge
youth are complaining about the lack of funding for their businesses start-ups,
with many saying their ideas and efforts are not being complemented.
This came
out at a Youth in Business consultative forum that was organised by The
Ministry of Youth, Sports, Arts and Recreation in Chipinge last Thursday.
The
meeting was facilitated by
Cletus
Potsekai and
Atanas

Matambandi
ni
, who are both from the host ministry's
district offices.
The youth
from various wards of Chipinge bemoaned the lack of support in the form of non-collateral
loans and grants for those who are not yet established in business.
They
also said they would be in a better position to thrive if they are given
special consideration in the allocation of residential and commercial stands.
They
called for the establishment of youth centres and digital business platforms as
well as training in financial management and greater access to vocational training
centres for young people in all constituencies.
In
response, Mike Mudodo of Chipinge Rural District Council (RDC) encouraged the
youth to apply for land like every other citizen of Zimbabwe.
"Shun
illegal settlements, participate in water, sanitation and hygiene (WASH)
programmes and you will see diseases like cholera disappearing from your
communities," said Mudodo.
Ministry
of Industry and Commerce Chipinge district business development officer, Ivy
Katawa challenged the youth to register their business before talking of
funding.
"Financiers
give preference to registered entities that have a clear vision and has the
potential to grow. A business that has a clear cash flow forecast can easily
attract financiers," said Chitambo.
Isau

Woyo from the Department of Agritex whose mandate is food and nutrition
security urged the youth to get technical advice.
"Chipinge
is doing well in maize and beef production but it requires youth in business to
work with our department in order to maximise yield," said Woyo.
Gabriel
Jaji from the Ministry of Women Affairs, Community, Small and Medium
Enterprises Development warned youth to desist from the practice of failing to
repay government loans.
"Youth
must practice financial discipline and be ready to repay loans. We only approve
funding for projects that are realistic and bankable. One should have a ready
market before submitting a project proposal," said Jaji.