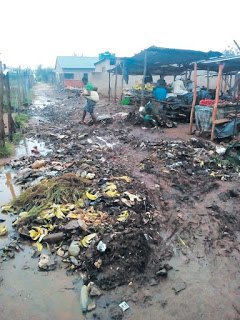 Health time bomb…The picture shows Chiredzi vendors going about their business at a garbage infested market stalls. The situation increases chances of cholera outbreak.

Anesushe Mamhute
CHIREDZI – An operation being carried out by the town council to relocate informal traders to designated places has been criticised as haphazard and callous.
The operation is being done by the council's health department with help from the Environmental Management Agency (Ema) but residents say vendors are being dumped in even dirtier places where council does not even collect refuse.
The town's biggest vegetable market in the light industrial area known as 'Kumagarage' has been cleared and traders moved to a 'dirtier' place close by.
"The operation is unfair because we have been move to a place that are worse in terms of access to clean toilets and water. There are no rubbish bins here," a vendor told TellZim News.
The heavy rains that pounded the town in recent days have added to fears that there could be a cholera or typhoid outbreak if authorities do not move with speed to improve conditions in the areas that the vendors are being moved to.
Chiredzi Residents and Ratepayers Association (CHIRRA) chairperson, Jonathan Mupamombe urged authorities to provide many bins at all places and ensure that refuse is regularly collected in the new trading places.
"Council should regularly remove garbage from the banana and vegetable market lest we have a serious disease outbreak," said Mupamombe.