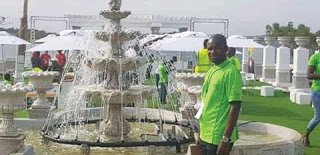 Hebert Pikela at Biodiversity conference in South Africa
Stephen Ephraem

Chiredzi was chosen to represent Zimbabwe at the Presidential Biodiversity Economy Innovation People and Parks Conference that took place from August 25 – 27 August at Kalahari Waterfront Hotel and Ha-Matsila Village in Thohoyandou, Limpopo province of South Africa.
The Centre for Cultural Development Initiatives (CCDI), a non-profit community-based organisation whose administrative offices are at Boli Muhlanguleni in Chiredzi, was selected to attend the conference as Zimbabwe's delegate. The organisation's director, Herbert Pikela represented Zimbabwe.
The conference brought together stakeholders from the wildlife industry, academia, traditional leadership and government and it ran under the theme, 'Innovating and Accelerating – with the People, for the people'.
It was officially opened by the President of South Africa, Cyril Ramaphosa, with delegates deliberating on innovative ideas that promote sustainable utilisation and conservation of the country's biological resources.
Speaking to iTell News from South Africa, Pikela said that the conference was an eye opener on trading in wildlife and eco-tourism products.
"We discussed how natural resources could contribute to the Gross Domestic Product (GDP) of our country while conserving the ecosystems as well. We held look-and-learn tours of community environmental projects. It was an inspiring gathering," said Pikela.
The CCDI director revealed that rural livelihoods could be improved if proper planning was done.
"The People and Parks conference provided a platform for evaluating the progress that has been made to address land claims around protected areas, and to facilitate the contribution of protected areas to the improvement of rural livelihoods," Pikela said.
Apart from initiating community development programmess in communities that surround Gonarezhou National Park, CCDI runs two other projects; Great Limpopo Cultural Village and Nsimbirhi Conference Centre as well as the Transboundary Cultural and Economic Trade Fair (formerly Great Limpopo Cultural Trade Fair) The cultural village and the cultural fair are located at Boli Muhlkanguleni.