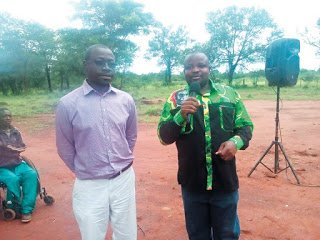 Musikavanhu and Chiwa
CHIREDZI
– Chiredzi West MP, Darlington Chiwa, outgoing Chiredzi Town Council chairperson Francis Moyo and three other Zanu PF provincial members; Ronald Ndava, Ailes Baloyi and Jevas Masosota are licking their wounds after being defeated in primary elections they had confidently considered to be theirs for the taking.
Out of the four local MPs, only Kallisto Gwaneta of Chiredzi South and Denford Masiya of Chiredzi East will take part in the general elections.
Chiwa was shown the exit door by former Tongaat Hulett boss, Farai Musikavanhu after he came second with 1160 votes against Musikavanhu's 3427.
Chiredzi North MP Robert Mukwena withdrew from the race for unclear reasons when others were busy submitting their CVs. With 9 389 votes, Roy Bhila was pronounced winner in the constituency after defeating 10 competitors including provincial secretary for information, Ronald Ndava who came second with 1918 votes.
Chiwa, a former police detective, survived the chop despite being linked to former vice president Joice Mujuru's Gamatox faction in 2014. He again survived expulsion from the party after his G40 faction was shuttered by Operation Restore Legacy in 2017.
His stance in defence of both Tongaat Hulett and its workers as well as his work in the community development projects have, however, now failed to save him from.
On the other hand, Moyo's investment in Ward 28, where he graded a 70 kilometre stretch of road and rehabilitated graves also failed to earn him enough votes.
He, together with Chiwa and Norman Sharara, withdrew from the primaries midway citing massive rigging.
In the recent past, Moyo supported Musikavanhu as a way of getting at his enemy Chiwa, but he then turned against Musikavanhu himself, setting the stage for a long and bruising fight for Chiredzi West.
In Chiredzi South, former Chiredzi Rural District Council CEO and Zanu PF Masvingo provincial deputy chairperson, Baloyi, who has been MP of the constituency before, lost to Gwanetsa despite being the party's preferred candidate.
Gwanetsa garnered 3488 against Baloyi's 2110, and Baloyi seems to be headed to another five long years in the trenches.
In Chiredzi East, two former CIO agents, party provincial political commissar Masosota and Masiya clashed but it was Masiya who walked away with the prize despite being disliked by the party for his links to G40.
Popularly known as 'The Bulldozer', Masiya took 2 903 votes while Masosota only finished fourth in the crowded race. Abraham Sithole came second with 1 119 while former MP Chauke got 1001.
Some losing candidates in Chiredzi West and North have since wrote a petition to seek the nullification of the results, alleging massive electoral fraud and irregularities.
After the shambolic primaries, anti-Musikavanhu protesters were dispersed by riot police at Chiredzi Town Council offices as they sang songs praising former president Robert Mugabe whom they said handled party processes better than the current dispensation.top story